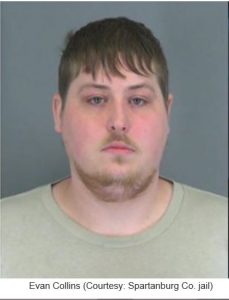 Spartanburg, SC – 4 January 2017 – Spartanburg County deputies said a man was arrested Tuesday night after firing a gun at a tow truck that was repossessing a vehicle.
Deputies said they were called to an incident on Harrelson Road just before 11 p.m.
According to investigative reports, the tow truck was called to haul off after a woman had failed to make payments on it. The woman's husband and sons attempted to take items from the car before it was hauled away and told deputies they had not taken all of their personal items from the car when the tow truck driver began leaving.
While chasing the truck down, one of the sons, a 24-year-old, reportedly slipped and the tow truck rolled over his foot.
At one point, the father and another son, 25-year-old Evan Collins reportedly tried to block the tow truck and forced the vehicle to turn around in a homeowner's yard on Old Hills Bridge Road.
At this point, deputies said Collins began firing shots at the tow truck.
The homeowner reportedly also ran outside and fired three shots into the air as a warning to leave.
The judge approved a warrant charging Collins with assault and battery high and aggravated.
None of the others involved were charged, per investigative reports.
Source: Fox Carolina