Conyers, GA – 19 May 2017 – A suspected teenage car robbing crew is off the streets thanks in part to a repo man who was at the right place at the right time.
"I'm just driving through, scanning plates looking for cars out for repo," said Daniel Kitchens, who works for Bulldog Recovery, a vehicle repossessions company out of Covington.
Kitchens was working his job as a repo man, scanning the Walmart parking lot with an LPR, a license plate reader when he spotted a stolen Ford Escape park in front him.
Four young people bolted out of the car, one teen ran his way.
"I just grabbed him by his clothes and just kind of kind of put him down said," said Kitchens. "He ended up spinning around as I pushed him down."
Sgt Kim Lucas with the Conyers Police Department said made a difference.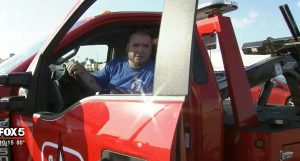 "He is actually able to get hands on and help with the apprehension so we're thankful for his assistance in that," said Sgt. Lucas.
She said Mr. Kitchens took down a 16-year-old boy whose picture and identity was not released because he is being treated as a juvenile in this case.
Police did identify 17-year-old Willendrick Rucker, the driver, 18-year-old Tavon Standifer, and 19-year-old Mariah Thomas, who were arrested at the Walmart parking lot Monday afternoon.
Police said the four are suspected in the robbery of a pizza deliveryman last weekend in Norcross about 35 miles from Conyers.
"He was essentially ambushed and robbed of his keys and other things and the suspects took his vehicle at that point," said Sgt. Lucas.
She said the LPR on Thursday spotted another stolen car from Gwinnett County, leading to the arrest of some other teens.
"Everyday hot lists, is what they're called, are placed into the system. And when a set of numbers compares and matches something on a hot list we get an alert," said Sgt. Lucas.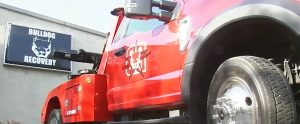 In Daniel Kitchens' case, it was an alert which spurred him into action to take down a suspect involved in a dangerous game of chicken with cops at the Walmart parking lot.
"The disregard for everybody out just doing their everyday thing because there were people in the parking lot. There was they could have hit somebody," said Kitchens.
"I don't encourage folks to jump in the middle of a police chase, however this time it worked out well for everybody," said Sgt. Lucas.
Conyers police do not encourage people to take action like Kitchens did.
Source: FOX5 News