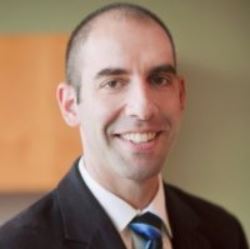 FOR IMMEDIATE RELEASE
Los Angeles, CA – December 19, 2016 – Art Sookazian, Vice President of Special Services at Los Angeles Federal Credit Union (LAFCU), was recently named one of the recipients of the Credit Union Times' 2016 Trailblazers, 40 Below program, which annually recognizes young credit union executives who are creating innovative advances in the credit union industry. Because of the distinction, Art was featured in the November 30, 2016 issue of CU Times Magazine and CuTimes.com, which included a series of articles highlighting the recipients' professional accomplishments. The special issue profiled Art's most recent achievement of cutting loan delinquencies at the $882 million credit union by more than half. The article said Art spearheaded the use of automated reports to improve processes and reduce loan delinquencies from 1.57% to 0.37% over a period of 24 months.
"Automated reports also lead to better risk assessments," Art stated in the article. Through automation, Art is able to see today's delinquency level, and while it may not mean anything in itself, by comparing it to delinquencies during other time periods, he can use the information to pinpoint potential trends and shifts. "Having that trending analysis is critical so that you can put on the brakes on something or dive deeper," Art added. "You want to know when there's a problem today, not six months from now."
Since his automation efforts were so successful, Art began automating other processes such as the credit union's bi-annual skip-a-pay program, which allows eligible members to skip a loan payment twice a year. Previously the skip-a-pay request process was manual and very labor intensive, and could take up to an hour to request. After Art automated the program, now an email goes to pre-approved members who can use their smartphone to quickly agree to the skip-a-payment.
While making progress in the collections industry, Art is also passionate about supporting other credit union professionals in his field.  In 2015, he founded the National Credit Union Collections Alliance, a national non-profit organization that focuses on credit union education and provides networking services for credit unions. The all-volunteer board, comprised of 13 credit union executives, has approximately 200 members from 25 states nationwide. Art is also the president of the organization.
"We have partnered with four credit union leagues across the nation, doubled in growth during each annual conference, provided a best practice, educational, and networking arena for credit union management," Art stated. "We have helped vendors grow their client base by networking with credit unions in need of resources.  By doing this the entire industry will become less resource-challenged as vendors and credit unions grow with better access to technology, collection strategy, best practices, and third party integration."
Art oversees collections, recoveries, litigation, repossessions and remarketing at LAFCU. He has 15 years of experience in collections, at both captive finance and credit union industries. Prior to his current position, Art served as VP of Collections at Xceed Financial Credit Union in El Segundo, California.   Anyone who lives in Southern California can join LAFCU and take advantage of its financial services. For details, visit www.LAFCU.org, call (877) MY LAFCU (695-2328), or stop by one of their branches.