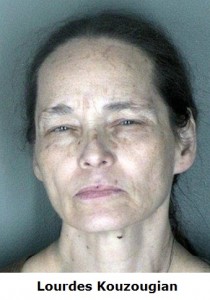 Longmont , CO – 21 March 2016 – Longmont police arrested a woman on suspicion of attempted first-degree murder on Saturday afternoon after they say she shot at a tow truck driver she incorrectly thought was coming to repossess her car.
Cmdr. Jeff Satur said Lourdes Kouzougian also faces possible charges of felony menacing, discharging a firearm inside the city limits and reckless endangerment.
Satur said the tow truck driver was sitting at Garden Acres Park waiting for calls for service when Kouzougian, armed with a shotgun, confronted him. The tow truck driver climbed into his truck and left, but heard a gunshot and called police shortly after 2:30 p.m.
Neighbors, who had heard Kouzougian make a similar threat about a tow truck driver earlier in the week, were able to direct police to Kouzougian's house, located in the 1700 block of Tulip Drive, Satur said.
He said Kouzougian refused to come out. Police unsuccessfully tried to find a number to call her, and instead used a loudspeaker to contact her. Police called out the SWAT team, but Kouzougian surrendered before it arrived and was taken into custody.
No one was injured during the incident.
Source: The Denver Post