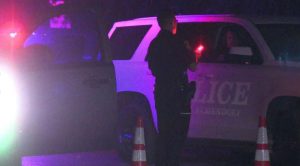 San Antonio, TX – 7 June 2017 – Bexar County deputies in a standoff on the far Southeast Side early Thursday resorted to shooting gas into the home before arresting a man who allegedly fired an AK-47 at a person who came to repossess a vehicle Wednesday night.
The incident began when a towing company was attempting to repossess a vehicle around 8:40 p.m. at a home in the 15600 block of Stewart Road.
The suspect allegedly came out of his home with the AK-47 and started shooting at the towing company employee. The employee abandoned the suspect's car, fled the scene and notified authorities.
Deputies responded to the scene, at which point the suspect barricaded himself inside his home along with at least four other people, including his wife and three children, according to officials.
The children were eventually removed from the house unharmed.
Sandra Pickell, a spokesperson for the Bexar County Sheriff's Office, said deputies shot gas canisters into the house after several hours of failed negotiations.
Deputies rushed in and arrested the suspect on two charges of aggravated assault. Pickell said the suspect's wife may also face charges.
No one was injured in the incident.
 Source: MySA