FOR IMMEDIATE RELEASE
9/27/17 – For the next 60 days (9/26/2017 to 11/25/2017) As a TexasARP member you will receive…  
One year of RISC Associate membership valued at $595.00.   RISC Associate membership provides a 15% discount along with access to the entire suite of RISC compliance, training, and business docs at no additional charge. If you are Texas based and purchased RISC CAN or an Associate membership within the last 60 days (7/26/2017 to 9/25/2017) and if you join TexasARP you will receive a credit for one CARS program valued at $300.00. 
*Only applies to repossession agencies in the State of Texas.
** Must be a TexasARP member in good standing.
*** TexasARP will review each applicant to determine corporate status.
If you are not a member join today!   Visit www.TexasARP.org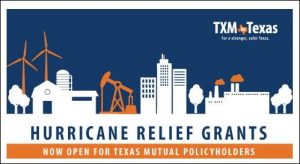 Texas Mutual Announced;
We are pledging $10 million to help policyholders whose businesses were affected by Hurricane Harvey. Grant applications opened last week, but there is still time to apply. 
Current policyholders who have sustained significant damage to a business location in one of the 60 counties on the governor's Hurricane Harvey Disaster Declaration can apply for up to $10,000 in grant funds from Texas Mutual. Funds can be used for payroll, building rehab or repair, machinery and equipment repair or purchase, replacement of lost inventory, and other expenses associated with rebuilding. Your application will be sent to your agent to co-sign after you've submitted it to us. Visit http://www.texasmutual.com/aboutus/community.shtm#grants
For more information.