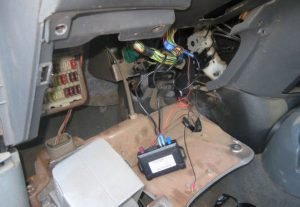 Dallas-based Santander Consumer USA Holdings Inc., one of the country's biggest subprime auto lenders, has decided not to use GPS-tracking and ignition kill switch technology as regulators clamp down on the devices, an executive said.
Car lenders use the devices to help them find and repossess cars when borrowers default on loans, which is becoming increasingly common amid a lending boom. Bloomberg reported last week that the U.S. Federal Trade Commission is looking at the technology as part of a larger investigation into abuses in auto lenders' collection practices. It has asked at least two lenders for information.
Santander uses equally effective means of recovering cars, and with less regulatory risk, chief operating officer Rich Morrin said at an investor event Thursday. Somewhere between 35 and 70 percent of cars financed with subprime loans has a GPS or kill switch device installed, according to Corinne Kirkendall, vice president of compliance and public relations at PassTime, which sells the gadgets.
Finance companies and banks are looking to cut their losses on bad loans after volume has surged. Total car loans outstanding in December were $1.16 trillion, including both prime and subprime, up more than 45 percent since the fourth quarter of 2008. As loans have grown, delinquencies have as well. Borrowers were at least 60 days behind on about 5 percent of subprime auto loans in December, a figure that has steadily risen since at least 2010, when around 3 percent were overdue, according to S&P Global Ratings.
When lenders do repossess cars, they are recovering less money from selling the assets. In November recovery rates on subprime borrowers whose loans were bundled into bonds fell to about 34 percent, down from around 38 percent in the year before, S&P data show. Analysts and industry executives expect that figure to fall further as a flood of leases are due to end in the coming year and beyond. When they are auctioned off, car prices could fall more.
Santander Consumer executives said it isn't appropriate to compare historical problems in subprime mortgage lending with current subprime auto lending, though they acknowledged concerns about looser lending standards among competitors.
The lender, which is America's largest seller of bonds backed by subprime auto loans, separately said it is looking to make similar bond deals with leases. It may seek a public securitization platform this year to support its leasing business, Treasurer Andrew Kang said at a shareholder conference.
Bundling the leases into bonds would help diversify Santander Consumer's funding, and could help Chrysler sell more cars at a time when industry sales growth is showing signs of sputtering. Total sales of cars and light trucks reached a record in 2016, helped by sales incentives in November and December. Analysts in January on average forecast a decline in 2017, which would be the first in years.
Santander Consumer executives called their securitization deals the "cornerstone" of the company's funding. The lender is already the largest issuer of bonds backed by retail auto loans in the U.S. and is one of largest subprime issuers, according to the lender. The company made more than $22 billion in auto loans and leases last year and was set to sell on Thursday morning $1.2 billion of new bonds backed by recently made subprime auto loans. Investors are buying enough of the securities to reduce spread premiums, a measure of perceived riskiness, to their lowest levels since 2008.
Wall Street has already sold more than $12 billion of auto debt-backed securities this year, data compiled by Bloomberg show.
Source: Matt Scully, Bloomberg