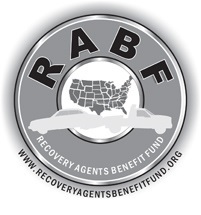 To date in 2016, the Recovery Agents Benefit Fund has already disbursed $36,100.00 to 8 different families whose lives were turned upside down as a result of the death of their loved one.  To put this in perspective the chart below reflects RABF disbursements since 2012; with still 4 months left in 2016 we are on pace for a record disbursing year – a statistic we are none too happy with.
In order to make those disbursements, we need your help.  We need the industry to purchase raffle tickets for the Dynamic Slide-In Unit generously donated by Anthony Gentile of Dynamic Manufacturing.  Raffle tickets are easy to purchase through our website or by clicking this link http://www.recoveryagentsbenefitfund.org/raffle.asp.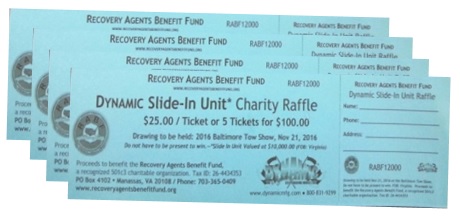 Tickets are $25 each or 5 for $100!  The winning ticket will be drawn at the Dynamic Booth at the Baltimore Tow Show this November.  The winner does not need to be present to win, but he or she does need to buy a ticket in order to win!
Individuals buying raffle tickets are the greatest source of revenue the fund receives each year.  Without these ticket sales, we would not be able to help families like April Adcock, fiancee of Brandon Canales a repossessor with S&J Recovery in Illinois.  Brandon died in a tragic motorcycle accident in July of this year.  Brandon left behind April (his fiancee) and 3 young children, 5 years, 3 years and 5 months.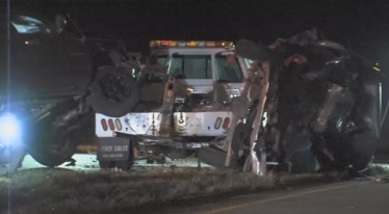 In August 2016, Bryan Cantu with Top of Texas Recovery in Amarillo, TX died after stopping on the side of the road to secure a repossession to the tow truck he was driving and was killed when he, his tow truck and the repossessed vehicle were struck by a drunk driver. Click the photo to be linked to the full news report.  http://www.newschannel10.com/story/32594740/one-man-dead-after-overnight-i-27-accident
Neither of these individual's families were prepared for the sudden death of their loved one and the Recovery Agents Benefit Fund was able to step in and help; but we can't do it without you!
Visit the Recovery Agents Benefit Fund (www.recoveryagentsbenefitfund.org) today and purchase your raffle tickets for this year's raffle! The RABF is an IRS recognized 501c3 charitable organization.  No person affiliated with the organization draws any sort of salary or compensation for their work with the fund. It is a 100% volunteer organization with over 96% of funds collected being distributed back to those in the the repossession industry.