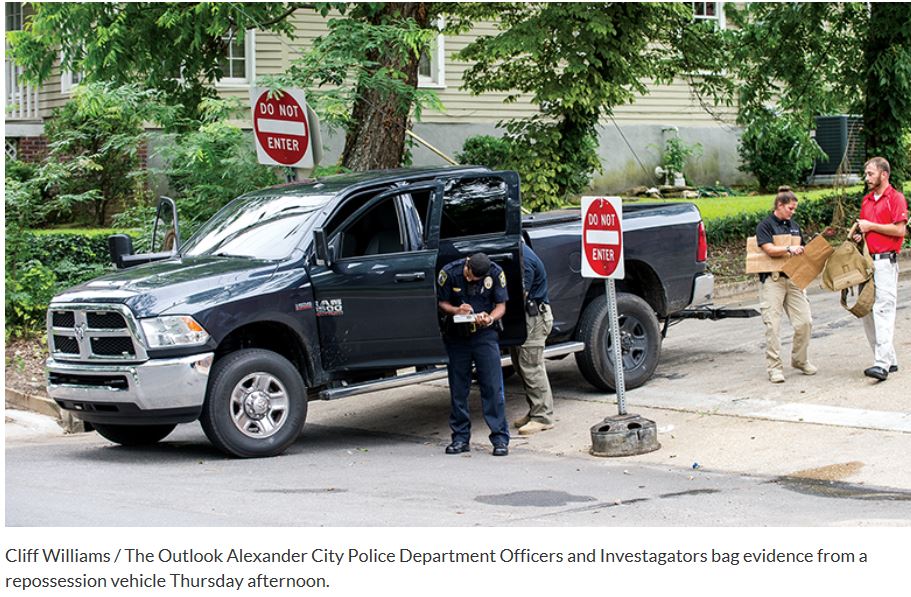 Alexander City, AL – 3 August 2017 – An attempt to repossess an automobile led to a fight and a police chase with the two individuals from the repo-vehicle being arrested.
"We got a call of individuals fighting in the Five Points area," Alexander City Police Captain Mario Hodge said. "As we were responding, they left the scene with one vehicle chasing the other."
Witnesses in the Five Points said there was an argument between two males one of which wearing a blue shirt with agent across the back. At one point the truck went to leave and one male threw a bucket at the other and proceeded to chase the other truck.
Hodge said an Alexander City Police officer attempted to make a traffic stop when both vehicles fled.
The vehicles did not stop for the officer and proceeded to lead Alexander City police vehicles down Jefferson Street onto Bibb Street into the roundabout before cutting across the parking lot of the Bud Porch Center. Police were able to stop the vehicles before they got to Madison Street.
Hodge explained the reason for the altercation.
"It appears one vehicle was trying to repo the other," Hodge said. "There are certain things a repo person is supposed to do."
At Madison Street where the chase ended, investigators could be seen collecting evidence from the repossession vehicle, a newer Dodge 3500 with flashing lights and tow bar. Some of what was taken from the truck included two bulletproof vests, a handgun and other belts and bags.
"There was contraband confiscated from the vehicle," Hodge said. "There was also narcotics in the vehicle. The two repossession guys are in custody."
At the scene the driver of the other vehicle was allowed to drive his truck away though not entirely unscathed after washing pepper spray off him.
"It appears the repo guys pepper sprayed him," Hodge said.
Source: The Outlook.com