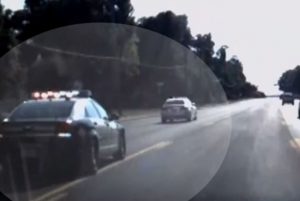 Newnan, GA – 29 June 2017 – Police said a Newnan woman led authorities on a chase with her children unrestrained in the back after she fled from a man attempting to repossess her car.
Shatara Cashena Ashford, 27, is currently facing charges of criminal damage to property, fleeing/attempting to elude police, driving while unlicensed, stop-sign violation, and child-restraint violations, according to jail documents.
On Tuesday morning, police said a man attempting to repossess Ashford's vehicle watched as she drove the GMC Envoy off his rented U-Haul trailer, which allegedly caused over $1,000 worth of damage in the process. The man told police the vehicle had the muffler dragging on the ground after it was backed off the trailer. 
A police officer spotted the vehicle turning on Hill Street and attempted to make a traffic stop, but the car did not stop, the report said. The car traveled through several streets and failed to stop at the intersection of Walthall and Paul Street before it traveled down Ball Street and Lake Street. 
After making a turn on East Broad Street, the car got held up by traffic, which allowed police to get behind the vehicle. The car eventually stopped
at the intersection of East Newnan Road and Christian Walk. 
The driver, identified as Ashford, allegedly told police she had three children inside the car and was unaware of the pursuit. Inside the back of the vehicle, police noticed several children were not in car seats, the report said. 
All three children were unharmed and turned over to a family member, according to police.
While records show Ashford is the registered owner of the vehicle, she did not possess a valid driver's license, according to police. 
Ashford was taken to the Coweta County Jail where she is being held on $6,800 bond. 
Source:  The Newnan Times-Herald