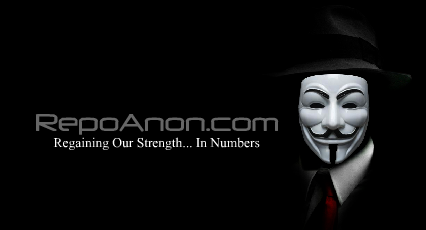 Following up on their earlier Press Release, "ANONYMOUS – PRIMERITUS FINANCIAL SERVICES CHOSEN FOR ANONYMOUS STRIKE BY REPOSSESSORS ACROSS THE NATION ", the clandestine group of repossession agency owners who have adopted the name and moniker of the infamous hacker group, Anonymous, has launched their own website ( http://repoanon.com/ ) to broadcast their overall objectives, pending action and a call to solicit repossession agency owners to join in their movement.
While their initial Press Release announced their scheduled strike against Primeritus Financial, within their objective, they take a jab at LPR company, DRN, which appears to perhaps be a future target as well.
OUR OBJECTIVE
"It is the goal of the Anonymous to bring unity to the repossession industry to bring back the direct lender relationship and to have our industry thrive again. As you all know we are being asked to cut keys for free, take pictures for free and much more. We are also being handed contracts that are one sided and that are not in the favor of the repossession industry. We have been told by many forwarders that this is the industry standard. And it has been this way for far too long.
I ask you if we are the industry then how is this the standard. We must unite together and stand up against our adversaries and not allow them to dictate how we do business any longer. 15 years ago if I told you this was your future you would have laughed and maybe even mocked me. But now it's reality. It's here. The one encouraging thing I can say to you, is its not over. It's simply the beginning of a revolution. LPR companies like DRN are encouraging the forwarding industry and then lender that recovery rates like $275.00 is all it cost to get the job done. We all know that $275.00 doesn't build a business and in most cases doesn't even pay the overhead.
The anonymous over the next 18 months will tear down walls that have been put up to divide our industry and repair the bridges that some thought were burned forever. My brothers and my sisters we have not lost this struggle, it is time to stand up and engage in this fight. We are Anonymous."