Bangkok, Thailand – May 4, 2015 – Far across the Pacific Ocean in bustling, crowded and crazy Bangkok, a Repo Man is taken for a wild ride on the trunk of a car through traffic with police following the chase. Different country, same story.
The scene on Monday afternoon at Sukhumvit Soi 103 was one of chaos as a leasing company employee attempted to recover a vehicle that had not been paid in 6 months.
At the time of sharing the photos on social media I couldn't figure out what was going on but now I've got the basics of the rather long winded story so I'll fill you in minus any padding, a Stickboy style summary of events as it were.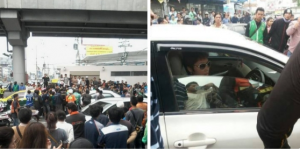 When the repo man turned up to take the car back the woman got in an argument with him and then in an attempt to stop him taking the Toyota back she got in and drove off. He was having none of it and jumped on the back as she whizzed around the back streets of Bangkok at speed with the guy hanging on to the boot for his life. A man dedicated to the job.
The incident started at Phra Khanong and finally came to an end around Sukhumvit 103 when the fleeing driver got stuck in heavy traffic with other motorists attempting to stop her. Owners and friends of the cars and bikes she had smashed into and damaged in her bid to escape with the car had made chase and now surrounded the car to stop her doing a runner again.
A large crowd had gathered not only to prevent her trying to drive off again but also just see what all the fuss was about and get those all important Facebook pics of the unfolding drama.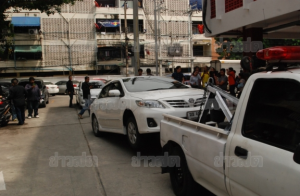 The boys in brown were called as the woman sat locked in the car as the large crowd looked on. At one point bystanders jacked the car up off its two front wheels to stop it going anywhere as they tried to clear the road as the entire area had come to a standstill.
When the cops did turn up they tried to talk the woman out the locked vehicle but she was having none of it so they towed it down to Phra Khanong Police Station where she was finally persuaded to get out and answer the officers questions and give her side of the story.
A dozen others also showed up including witnesses and owners of the damaged vehicles. There also seemed to be some sort of brawl involving the driver outside the police station. Who, what, why? I've no idea.
The father of the woman who'd leased the car but not paid it also made an appearance and gave some sob story.
Wrists were slapped, threats and promises made, bosses at Toyota leasing called and the investigation… continues? Disappears? We'll probably never know.
Story by Stickboy BKK at Stickboy Bangkok