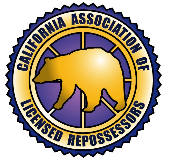 Press Release
IT WAS CALR THAT…
Throughout the years, CALR has been the gatekeeper of our repossession industry. It was CALR that identified AB 306 last year and initiated talks with stakeholders. Because of CALR, licensed repossessors are exempt from having to provide a copy of their motor carrier permit to a tow yard.
It was CALR that added B & P Section 7505.2
That specifies when repossessing jet skis and motorcycles, repossessors are allowed to take the trailer without a repossession order to execute a safe repossession.
It was CALR that amended B & P Section 7505.2
That allows repossessors to remove a locking mechanism or security device on the collateral before, during, or after a repossession.
It was CALR that amended B & P Section 7507.12
Which allows for a repossession to be complete among other things when a repossessor moves the collateral or gains control of the collateral. Most importantly, prohibits anyone other than the legal owner from directing a repossessor to release a vehicle without the legal authority to do so.
It was CALR that amended Section 14602.6 and 22658 of the Vehicle Code             What a law enforcement agency and tow yard/storage facility can ask the repossession agent for when obtaining a release/recovering a vehicle
I have been selected to serve on the Bureau of Security and Investigative Services Committee. As the president of CALR, I will lead our industry in the fight against unjust and unreasonable government oversight and work to preserve our rights to earn a living, to support our families and to fair and reasonable regulations.
The rights of licensed repossessors in our state are under siege and are being eroded and suppressed by big business and government authority. Therefore, CALR needs increased membership participation.  We need to recruit new members who are willing to join the fight to protect our rights. We don't have much time. At this very moment, new legislation and regulations are being drafted to negatively impact the rights of licensed repossessors. In order to sustain the laws on the books that protect the repossessor we must increase our membership our industry will perish.

Marcelle L. Egley
President, CALR