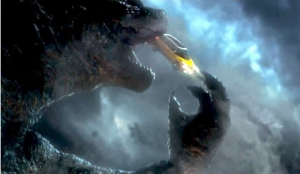 The exuberance over the victory over repossession forwarding Godzilla "PAR" appears to have been short lived. As reported in June, "Opie Taylor" aka, George Badeen of Midwest Recovery, Inc., had prevailed over beast "Godzilla" aka, PAR, ARS, etc., in the Michigan Supreme Court who had ruled that the action of forwarding is a collection activity and as such is required to be licensed and regulated by the state.
Even before the ink had dried on this decision, Republican State Senator Rick Jones had introduced a bill making it legal.
Introduced by Sen. Rick Jones (R) on May 20, 2014, SB 947 was written to delete the requirement that the Department of Licensing and Regulatory Affairs (LARA) audit a collection agency on a biennial basis. The agencies would still be subject to current regulations and record keeping requirements, however. The bill would also establish as "the intent of the legislature" that the regulations apply to debt collection agencies, not the companies that hire them.
This bill has allegedly passed both houses and is set for passage into law on the Governor's desk.
It has been alleged that this Bill was the result of successful lobbying from the repossession forwarding industry who stood to lose millions of dollars annually in lost revenue.