Detroit Wrecker has offered our legendary Lil Hercules & Herc-O-Matic Underbody Wheel Lifts since 2011 and repossessors worldwide have had the chance to enjoy this quality built unit. Detroit Wrecker is the only manufacturer that offers customers a Lifetime Warranty on Pins & Bushings plus a host of other standard features that make this unit stand high above the rest. This unit is designed and engineered to last many years with minimal to no repair. Customers who have experienced other units and had the chance to own one of ours have seen a night and day difference between quality, customer service, and reliability.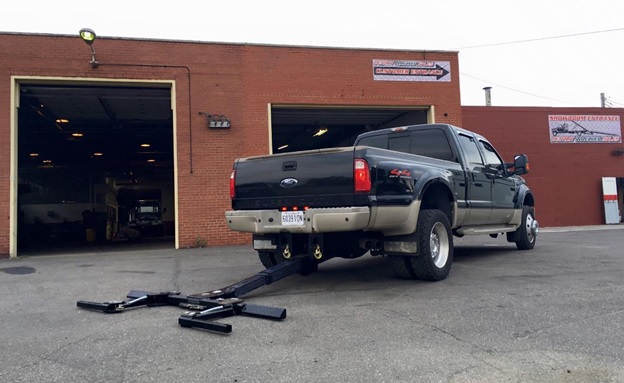 Benefits of Under-Body Repo Units
The benefits of having a wheel lift mounted underneath the bed of a pickup are significant. These units are much cheaper than buying a light duty wrecker, capable of fitting into places other equipment cannot, and are much less noticeable in action due to the unit collapsing underneath the truck. Another major benefit of having an Under-Body unit is the fact that the pick-up bed is always free to use for fifth wheel towing or everyday use.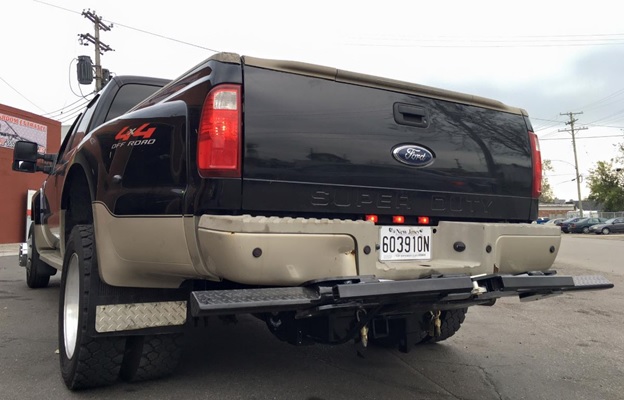 What Sets The Lil Hercules & Herc-O-Matic Apart From Other Similar Units?
Here is why you should buy one of our units versus any other on the market…….
Bronze Oil-Lite bushings at every critical pivot point.
We outfit every pivot point with our long-lasting Bronze Oil-Lite Bushings and Pins for extra strength and reliability. All of our Pins and Bushings come with a lifetime warranty and are made to sweat oil in order to reduce rust, corrosion and overall maintenance.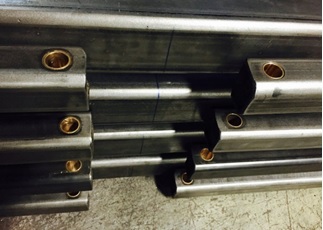 Ability to tighten crossbar pivot point.
Some units can be shaken by the touch of the crossbar and we do not want our unit to share those symptoms in the future causing major repair. We have a two piece pivot pin with a nut and bolt through the center surrounded by a ¼'' oil lite bronze bushing. Instead, our crossbar pivot pin can be tightened over time, not replaced, so you're never again wasting time and money replacing pins unnecessarily.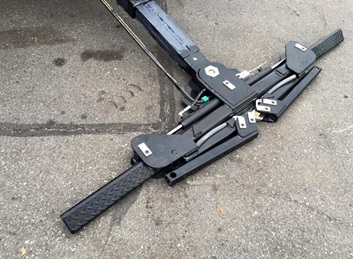 Steel Reinforcement Strips Instead of Plastic Wear Pads.
Our unit is designed to never have to replace plastic wear pads simply because there are none. Our design allows for steel reinforcement strips which keeps the extension tubes nice and tight with opportunity for movement side to side or up and down. The steel strips require a simple coating of grease on them due to the friction of it sliding back and forth, however there is no additional maintenance or future repairs there.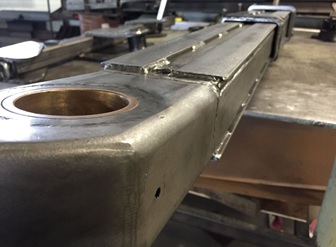 Ability to Expand & Collapse for Best Fit
Our unit is designed to prioritize ease of installation on a variety of trucks. The frame of the unit comes in two pieces which are designed to expand or collapse as much as necessary to fit appropriately underneath the truck. The attachment plates are also designed to fit the width of the frame of the truck no matter which approved make / model the customer has. All of this has been done to make each unit installed easily mate to the chassis being installed on.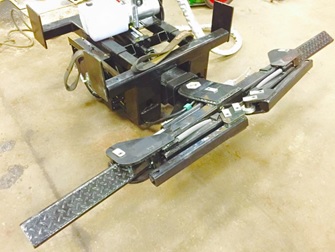 Designed to Hide Under Bumper for Concealed Operation
Our unit has a self-centering 82'' crossbar with collapsing spring loaded L-Arms for discrete repossessions. Easy ability to sneak up to car and attach to the wheels very quickly. The unit is only visible from the rear of the truck which is an advantage recovering a vehicle with stealth ability.
Integrated Chain Storage w/ DOT Approved Safety Chain Attachments
Our units come standard with DOT Approved Safety Chain Storage and attachment points mounted directly to the truck's frame. These attachments are very easy to work with and come equipped with (2) 12' HD Safety Chains. Easy to replace if necessary and designed to secure the towed vehicle in case of emergency.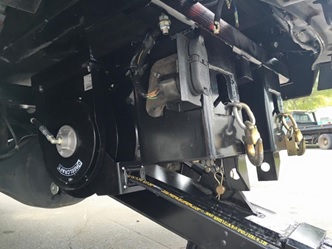 Hitch Receiver & Extension Standard
Our units come standard with a Class III hitch receiver extension mounted directly to the bottom of the unit. This hitch receiver is perfect for towing trailers and designed for quick and easy use. If a customer is concerned about the ability to tow larger trailers that match up to the true factory tow ratings for the chassis, we also have custom hitches that can be built to the frame of the truck giving you the ability to tow as much as your truck is rated to handle.

Electric Over Hydraulic 12V Power Unit w/ Remote Control Cord Standard.
Our units come standard with a 12V Power Unit designed to perform very quickly in the cycle time of running this unit. Also standard is a 15' Remote Control inside the cab of the truck. There is the ability to upgrade to a clutch pump and traditional valve with electric coils and an option for all wireless controls.
Optional Wheel Grids & L-Arms
There is an available options for customers who are on a budget or infrequently use their unit to save some money and have the ability to purchase a unit with wheel grids and L-Arms. These units have all the same capabilities as the Herc-O-Matic minus the self-loading arms. This version at its current price of $5750.00 is the most durable unit at any price point under $6000.00.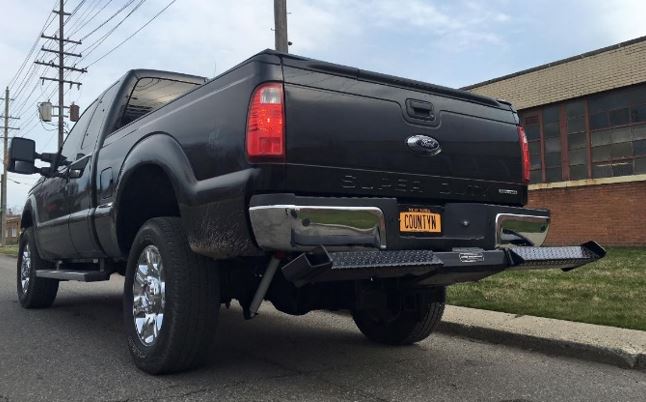 Sandblasted & Powder Coated
All of our units come sandblasted and powder coated for the toughest quality finish available on the market. Sandblasted down to bare metal to eliminate any mill scale from damaging the final finish, this process is far superior to any paint process available. The powder coating is baked into the metal at a temperature of almost 500 degrees so after years of use our units will look drastically different than units without this process.
Capacities
The Lil Hercules & Herc-O-Matic are built strong to handle your toughest jobs with ease and efficiency. They both offer 4,000 pounds of lifting capacity and 8,000 pounds of towing capacity.
Delivery to Customer
When a customer elects not to have our unit installed at by our expert trained staff, we make sure that they receive their product in a damage free wood crate built by us. Our wheel lifts will not ship on a weak pallet that the unit is crushing through, only a quality built crate designed by us to make sure there are zero defects upon delivery to your location.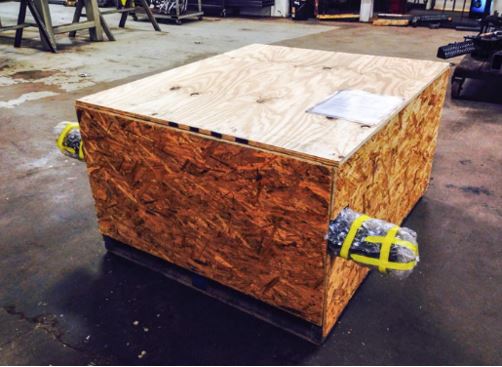 Frame Reinforcement
We are the only manufacturer that requires a frame reinforcement with the installation of our under body wheel lifts. We want our customers to have a worry-free ownership experience & that's why we reinforce frames for our cost in time and materials. $4000 Frame Job done at cost! Two professional welders for two days strengthening your frame to its maximum potential. Our reinforcement protects the side, bottom, and top of your frame in all the most critical places from right underneath the cab to the bumper. (Note: The top is only reinforced in areas that are not a flat surface. Also, certain chassis may not be subject to this requirement, call our sales team to find out more.)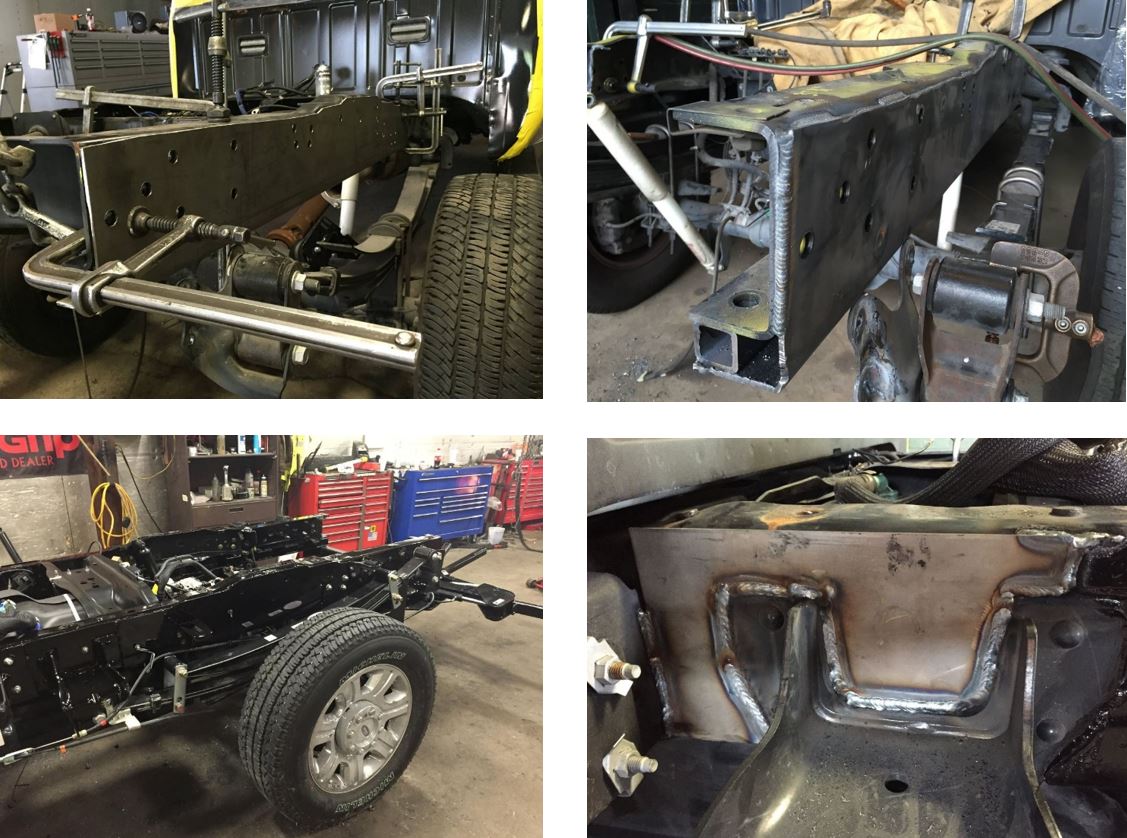 What Does The Lil Hercules or Herc-O-Matic Cost & How Do I Get One?
We are accepting orders for these units and you can call today to schedule an install or arrange to have one shipped to your door!
$5750.00 = Lil Hercules with Manual L-Arms
$8000.00 = Herc-O-Matic Self Loader
$1600.00 = Detroit Wrecker Frame Reinforcement
$1600.00 = Detroit Wrecker Installation
Detroit Wrecker Installation Comes With:
* 2nd battery & Battery Box
* Power and Ground Wires (Gauge 4) 40′ Total
* All Wires ran Protective split lume
* All Wires are Fastened to the truck w/ a P-Clamp & Nut and Bolt where applicable
* (2) 200amp Circuit Breakers (Protects Batteries) & (1) 300amp Fuse (Protects Electric Motor)
* Four Pin Tow Light Plug Installed
* Tow Lights w/ Cord are also included with installation.
* Grade 8 Nuts & Bolts
* Ratchets & Straps
* Safety Chains 12′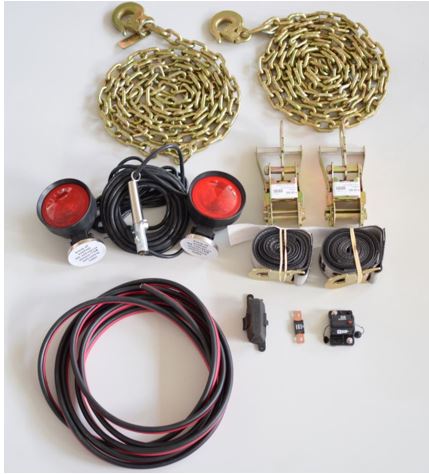 Contact us today to learn more about how The Lil Hercules or Herc-O-Matic can improve your fleet, expand your towing capabilities and reduce your maintenance costs!
 313-835-8700 Ext. 1 For Equipment Sales or mike@detroitwrecker.com

19303 Davison W.
Detroit MI 48223
313-835-8700
www.detroitwrecker.com