Las Vegas, NV – September 16, 2014 – The attorneys allege it is a "dangerous and unlawful" practice of vehicle repossession. In this case, cars are not being towed, they're being disabled electronically.
A Las Vegas mother of three says her car was electronically disabled on several occasions, sometimes when she needed to take a child to the doctor. She did get behind on her payments but never more than 30 days.
Now, legal aid lawyers are suing the finance company, CAG Acceptance of Arizona, alleging the company has been violating the Nevada law that says a buyer isn't in default until the payments are 30 days past due.
Mary Gibbs-Bolender bought a Chrysler Town and Country minivan from a local car dealer. She said she learned after making her down payment about a device installed in the car called a Past Time GPS unit.
"I really didn't have a problem with it until I found out the conditions of it which was after I'd even registered my car," Gibbs-Bolender said.
She said she discovered one of those conditions was the car would be disabled remotely, if payments were more than three days late.
"And I'd taken my daughter actually to a doctor's appointment and about two hours later we got into the car and it was a really humid day, my car couldn't start," Gibbs-Bolender said.
Lawyers for Legal Aid Center of Southern Nevada and the Kemp-Jones-Coulthard Law Firm filed the class action lawsuit on behalf of Gibbs-Bolender and others in a similar situation.
The suit alleges that by electronically denying Gibbs-Bolender the use of her car, the finance company was essentially repossessing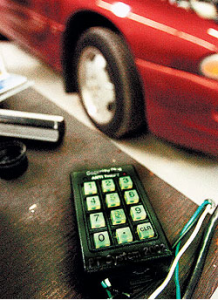 the vehicle in violation of Nevada law, which states a buyer is not in default until payments are at more than 30 days past due.
"You have a 30-day grace period under Nevada statute the way it is currently written, if you can't send a repo man out to pick up the vehicle there is no reason you should be able to press a button and have the vehicle shut off and not have access to the vehicle," legal aid lawyer Sofia Medina said.
General Manager of CAG Acceptance, the Arizona-based finance company being sued, said that he hasn't seen the lawsuit yet, but said it is his understanding that the Past Time system complies with all Nevada, California and Arizona statutes.
He also said without these kinds of devices, people with credit problems might not even be able to get a car loan.
The lawsuit might be the first of its kind involving use of an electronic device to immobilize a car and alleged violation of state law.