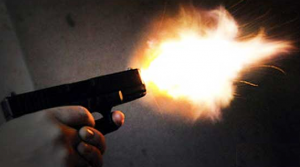 Darlington, MD – December 22, 2015 – A Darlington man was arrested for allegedly firing a gun Sunday evening at repossession agents who came to recover two vehicles from his property, according to police charging documents.
Edward George, 45, "became irate," according to charging documents, when two agents from Baltimore-based Final Notice Recovery arrived at his home, in the 3300 block of Cedar Church Road, to claim a 2003 Dodge Dakota and a Yamaha 4-wheeler, at about 8:47 p.m.
The two agents, who are 34 and 24 years old, told police George warned them to get out of his driveway, according to the charges.
George allegedly went inside the home, ran back out with a handgun and pointed it at the agents as they tried to leave the property, according to the charges.
He allegedly fired one round toward them from the front porch before running to the driveway and firing several more rounds, according to the charges.
One of the agents reported seeing a bullet strike the driveway right in front of his vehicle, kicking up stones. They continued to hear a total of about six gunshots as they drove away from the home, according to the charges.
George told deputies, "I did not fire any guns," but deputies found several neighbors who said they heard gunshots and saw a vehicle speeding toward a church, according to the statement of charges.
Deputies found casings and evidence of a gun being discharged in the area, according to the charging documents..
The area from which George fired was "reckless and negligent in manner," according to the charges, "with several residences just across the road in the direction of the gunfire."
"He put the lives, safety and [well-being] of victims and his neighbors in danger of serious bodily harm or death, with [complete] disregard to the safety of others," according to the statement of charges.
Several firearms, including handguns, rifles and shotguns, were recovered from George's home, according to the statement of charges.
George is charged with two counts each of first- and second-degree assault and reckless endangerment, according to court records.
He was released from the Harford County Detention Center on $100,000 bond Monday, according to online court records.
Source: The Baltimore Sun