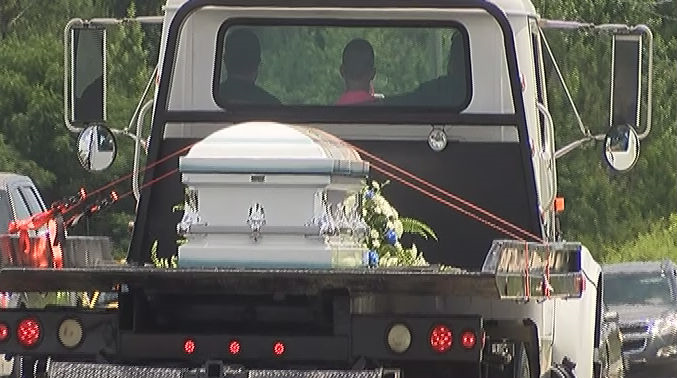 Lumberton, NC – June 15, 2015 – On Sunday, dozens of family members, friends and employees of the repossession industry came to pay their respects and say goodbye to one of their own.
Jeffery Lowe was shot and killed last Tuesday morning during and attempted repossession in Columbus County.
"He can make anybody laugh," said his eldest son, Jeffery Lowe Jr. "I can guarantee if you were a stranger on the street he could make you laugh within three minutes of meeting him."
Lowe worked in the auto recovery business for years and even owned his own company, Top Notch Recovery.
So when he went to a routine repossession early Tuesday morning his family was shocked to learn about his death.
"I thought it was a lie, because this has never been close to happening before," Lowe Jr. said. "So I didn't think it was true."
"Everybody has lost in this situation," said his former wife, Kim Waggoner. "Jeff is gone, the two men are going to jail, and the vehicle still goes back to the car lot."
Those in the repo industry said this death was uncalled for, and they blame T.V. shows for giving repo agents a bad image.
"That has hurt us real bad, because people see that on T.V. and think it's real and it's not," explained Johnny Huggans, who has been in the auto recovery business for 18 years. "We are all grown men out here trying to make a living and provide for our families. At the end of the day we want just like everyone else we want to go home."
So Lowe's family and other repo agents from different states are speaking up and setting the record straight.
"If you see a wrecker come to your house in the middle of the night, and you know you have not made your car payment, they are not there to steal your car they are there to repo it per the finance company," Waggoner said.
While nothing can bring their loved one back they hope their loss will serve as a lesson to others.
Jeffery David Lowe leaves behind four children.