Midwest City, OK – August 17,2015 – Midwest City police are seeking the public's help in locating a couple who are wanted on first-degree murder warrants following the slaying of a Sapulpa police lieutenant and another man who was the father of one of the suspects.
Sapulpa police Lt. Trey Pritchard and his cousin, Jeffrey Grafton, both 46, were found dead Saturday night at the Traveler's Inn Motel, 6821 S.E. 29th St., in Midwest City.
Grafton's son, Jonathan Grafton, 22, and Jonathan Grafton's girlfriend, Daphne Mason, 21, are wanted on first-degree murder warrants in the homicides, Midwest City Police Chief Brandon Clabes said.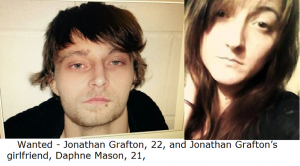 Clabes said that police were called to the motel about 10 p.m. Saturday and found both victims dead. He declined to say how they were killed.
Jonathan Grafton and Mason had leased the room on Saturday morning, the chief said. He said Pritchard and Jeffrey Grafton had traveled from Sapulpa to repossess a 2000 pickup that had been taken by Jonathan Grafton without permission from his father.
"The pickup had a GPS tracking system on it," Clabes said. "That's how they were able to locate it here in Midwest City."
Clabes said he did not know why Pritchard and Jeffrey Grafton did not contact Midwest City authorities about the vehicle, rather than trying to repossess it themselves.
Pritchard was off duty at the time.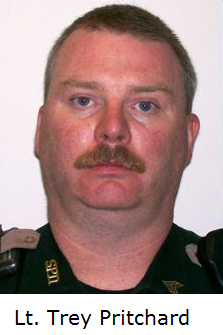 He said police received information that after Pritchard and Jeffrey Grafton arrived at the motel, the elder Grafton went into the room to confront his son. "He didn't return," Clabes said.
"After a while, Pritchard went in and he didn't return." Witnesses told police that they saw the pickup leave the motel. Clabes declined to say when Pritchard and Jeffrey Grafton arrived and when they were killed on Saturday.
The vehicle was later recovered in Yukon, a suburb west of Oklahoma City, the chief said. Neither suspect has been located, he said. Both Jonathan Grafton and Mason are believed to be from the Sapulpa area, Clabes said. "They are considered armed and dangerous," he said.
"We don't know where they are at, that's why we are asking for public assistance."
"I understand that Lieutenant Pritchard was a very fine officer. Our condolences go out to his family and to the Sapulpa Police Department," Clabes said.
In June, Jonathan Grafton pleaded guilty to possession of a controlled dangerous substance and drug paraphernalia in Creek County, court records show. He was given a five-year deferred sentence.
Clabes said Midwest City police are working with law enforcement agencies in both the Tulsa and Oklahoma City areas, as well as the U.S. Marshal Service on the case.
He said anyone who might know of Grafton and Mason's whereabouts to call local law enforcement or the Midwest City Police Department at 405-739-1306. Story By: Tulsa World