Irwington, GA – May 26, 2015 – Police say a repo man may have stolen as many as 60 cars from across metro Atlanta.   Authorities are working with victims to return their cars but they say it could take time.   Tracey Michael Ford is accused of using stolen rigs to haul cars from the metro area back to his shops in Milledgeville.
Ford, runs two businesses: Ford's Recovery and Body Shop and Hooker's Recovery, with locations in both McIntyre and Milledgeville.
Thursday night, officers seized 12 stolen vehicles – 10 from his Milledgeville business and two from his home.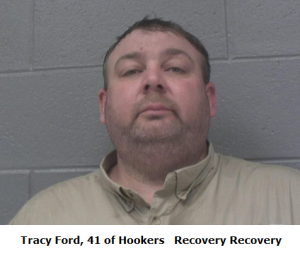 "He was operating his business with stolen wreckers," King said.
King said Ford was able to fly under the radar since he deals mostly with repossessions and is not on the Sheriff's Department's rotation for services to use.
The tip came from the Wilkinson County Sheriff's Office when they asked Baldwin County to help with their investigation.
"They actually recovered a stolen vehicle from him that a family member of his was driving," King said.
And the investigation led to much more than expected.
The majority of property was from the Atlanta metropolitan area. The semi truck alone is worth $100,000 and total value of all thefts is estimated at about $500,000.
"Given what we've found so far, it leads me to believe they will probably recover some more," King says.
Police say he took cars, trucks and even a $150,000 semi. Investigators say they're all stolen, including the tow trucks used to haul them.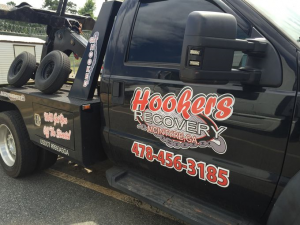 "The wreckers … it has a twin across the parking lot.  They both were stolen," said Baldwin County sheriff's Capt. Brad King.
Baldwin County sheriff's deputies arrested the 41-year-old after raiding his shops Thursday.   Officers say he housed the stolen cars at his legitimate repo business called "Hookers Recovery."
Channel 2 Action News drove to Milledgeville and saw up to 60 stolen vehicles.   Investigators say many came from Gwinnett, Rockdale, Clayton and Fulton counties.
"Everything in it was stolen, except the dirt on the floor," said King.
Deputies are now in contact with law enforcement in the Atlanta area, but the process of returning the cars will be long. They must go through insurance companies and other departments who may want to prosecute, which could take months, considering the amount of cars involved.
In the meantime, Ford is in jail facing 12 felony counts of theft.