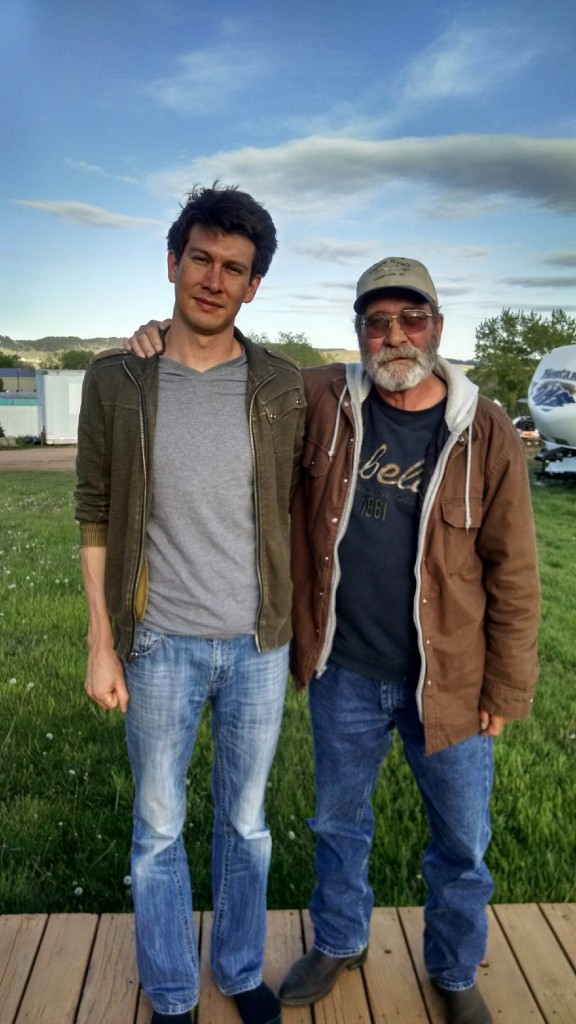 PRESS RELEASE
RAPID CITY, S.D. (PRWEB) April 27, 2015 -Tyler Rust son of Tim Rust (Double Eagle Services Recovery Agent), has been named a Udall Scholar. Tyler a junior at South Dakota School of Mines and Technology is a Geology major and Geospatial technology minor.  Tyler chose his field of study to protect and develop tribal public policies with an eye to environmental concerns, sustainability and stewardship of the land. Tyler will be spending the summer studying in Turkey. Tyler's father Tim Rust has been a recovery agent for Double Eagle since 1994.
South Dakota School of Mines & Technology junior Tyler Rust from Rapid City has been awarded the $5,000 Udall Scholarship, one of five prestigious, national scholarships established by the U.S. Congress. Rust is the second SD Mines student to ever win the scholarship.
The $5,000 scholarship comes with a four-day orientation in Tucson, Ariz., where Rust will meet with other scholars from across the country, elected officials and environmental and tribal leaders.
A geology major and geospatial technology minor, Rust chose his field of study to protect and develop tribal public policies with an eye to environmental concerns, sustainability and stewardship of land.
"Because tribal public policy is heavily dependent upon maintaining tribal lands, a solid background in earth sciences will help me not only to understand tribal environmental issues but also to help solve them," he said.
"The best students at Mines can compete with the best students anywhere," said Heather Wilson, president of the School of Mines. "We are very proud of Tyler, and I know this scholarship will help enable his continued development as a leader."
Rust serves as vice president of the Norbeck Society and president of Norbeck Uni and is also involved in Student Association Senate, Society of Economic Geologists and Tech Geological Association. He has presented at the American Indian Science & Engineering Society (AISES) national conference and served as an AISES travel scholar in New Mexico.
A National Science Foundation (NSF) Tiospaye Scholar and All Nations AMP Scholar, Rust also pursues research in geology, water resources, sustainable housing, solar energy and archaeology as part of the NSF Pre-Engineering Education Collaborative Program in partnership with Oglala Lakota College. In collaboration with other Mines students, Rust helped build a greenhouse on the Pine Ridge Reservation, bringing fresh produce to a U.S. Department of Agriculture-declared food desert.
Last year's Udall Scholar, Vaughn Vargas, has been named as an alternate this year, which is a first for SD Mines.
Established in 1992, the Morris K. Udall and Stewart L. Udall Foundation awards 50 scholarships of up to $5,000 and 50 honorable mentions annually to sophomores and juniors committed to careers related to the environment, tribal public policy or Native American healthcare.
The other prestigious national scholarships include the Barry Goldwater, which Mines student Jesse Hinricher recently received, the Harry S. Truman, the James Madison and Christopher Columbus. Last year, Mines student Travis Davis was among 12 nationally awarded the George J. Mitchell Scholarship.
Recovery Agent Tim Rust was diagnosed with Stage 3 Lung Cancer in Nov, 2014.  He began 6 weeks of intensive Radiation/Chemo treatment in December.  After treatment doctors stated his cancer was in remission.  He returned to field work at the beginning of April, 2015.
###
About SD Mines Founded in 1885, the South Dakota School of Mines & Technology is a science and engineering research university located in Rapid City, S.D., offering bachelor's, master's and doctoral degrees. The university enrolls 2,798 students from 45 states and 39 foreign countries, with a student-to-faculty ratio of 14:1. The SD School of Mines placement rate is 98 percent, with an average early-career salary for graduates of $65,600, according to the 2014-2015 PayScale report. Find us online at http://www.sdsmt.edu, on Facebook at https://www.facebook.com/sdsmt and on Twitter at https://twitter.com/sdsmt.