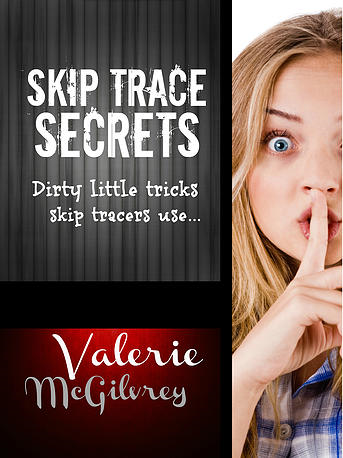 FOR IMMEDIATE RELEASE
Learn how professional skip tracers find people who are circumstantially or deliberately hiding and flush them out of the woodwork. Instructed by a 15 year veteran of Houston area repossession and skip trace, expert and author, Valerie McGilvrey.
The one day session will take you through secret covert methods and little known tricky techniques that will make your closed rates higher than ever before.
Repossession
Process Server
Investigations
Background Search
Asset Location
Judgment Enforcement
A workbook and CD accompanies the seminar and both are included in the price.
Paper ticket required upon arrival, smartphone ticket allowed.
We do offer refunds but due to the tight availability of this session ask that you get your refund as soon as you know you won't be attending so your seat opens for another person on the wait list. No refunds on the day before or day of seminar.
Class full? Check for future dates on skiptrax.com
Want to pay by check? Please FAX ONLY your completed and signed check to toll free (877) 894-1212 with attendee's names. Make your check payable to Valerie McGilvrey.
The Hamon Training Room is on the 5th Floor of the Dallas Library located at 1515 Young St., Dallas, TX 75201
Please do not call the library with your questions regarding the seminar.
The library cannot accept payment for this training event.
This skip trace training seminar is not approved for continuing education credits in Texas for investigations license or insurance adjuster hours.
A certificate of completion can be furnished upon request.
Attended a previous Skip Trace Secrets Seminar?
Stay updated and come meet new industry folks! Trade in your old workbook (tear off cover only) and get a brand new one. Join in and take any avilable or unreserved seating.
Your workbook is your ticket for unsold seating on any Skip Trace Secrets Seminar.
Just send an email to let us know your coming.
Valerie McGilvrey has humble beginnings in Houston, Texas and has a solid grasp on locating dead beat debtors nationwide. Her four-year-running skip trace blog chronicles the evolution of legal boundaries, technical difficulties and engineered skip trace successes.
Valerie, a former ice house owner and Texas insurance adjuster, presently owns and operates Asset Management Service in Conroe, Texas providing skip trace services for accounts that no other methods can find.