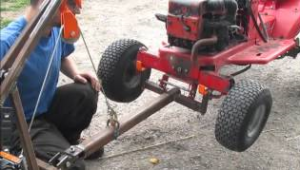 Rensselaer, IL – September 13, 2015 — Two men are facing charges related to the theft of a lawn mower, although they told police they were there to repossess it.
On Monday, Sept. 15, Rensselaer Police Officer Dan White was called by Jasper County Deputy Dean Stockman, who was at a business on E. Vine Street, talking with two people described as being suspicious.
According to probable cause affidavits, Deputy Stockman witnessed Allan L. Shiek, 45, of Bradley,
Illinois loading a riding lawn mower onto a trailer. Reports indicate that Shiek went on to tell both law enforcement officers that he was there to repossess the riding lawn mower. The driver was identified as Jerry L. Whitaker, 42, of Kankakee, Illinois.
Source: Rensslaer Republican