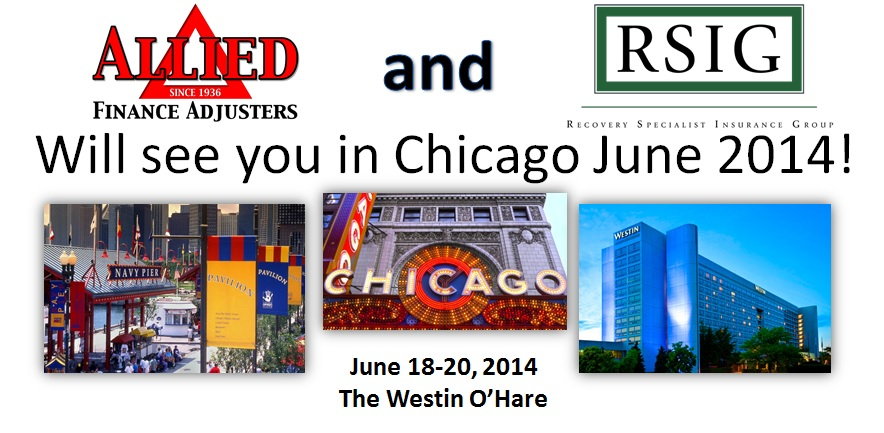 Press Release
Important notice about the 2014 AFA/RSIG Seminar host hotel…Guys and Dolls, rooms are selling like hotcakes!  We are still over 60 days out and our room block is 96% sold out!  This is a great indication of the interest in this event and registrations are still coming in.  If you wait too long you may miss out!  Westin O'Hare is an airport property offering free shuttle to and from O'Hare International Airport (Airport Code: ORD), which saves you money.  Our deeply discounted room rate of $159+ tax per night – saves you money. (Booking outside the block, room rates are $219 – $369 per night.)
Recent attendance at the Illinois Credit Union Association meeting garnered a lot of interest from credit unions interested in our compliance training and in the possibility of meeting and mingling with professional repossessors nationwide.
If you're not signed up for this event yet, you should be! The CFPB, the current state of the auto finance market, risk management and control are all topics important to the success of your business, so you should be making plans to be at this event.
Top notch entertainment, auctions to benefit the Recovery Agents Benefit Fund, opportunities to network with repossessors and lenders, and the industry's best training are awaiting you this June in Rosemont, IL.  Get registered today!