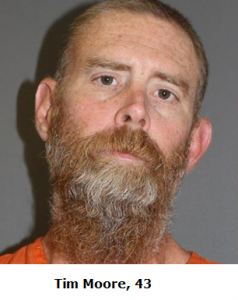 Volusia County, FL – August 12, 2014 – Monday night, a 43 year-old DeLand man tried to turn the tables on the Repo Man by taking back the 2005 Kia van that had just been repossessed. The foolish stunt earned him a trip to jail after a Volusia County Sheriff's deputy arrested him on charges of grand theft of a motor vehicle and criminal mischief.
The incident began around 9:20 p.m., when a tow truck showed up at the residence of 43 year old Tim Moore to repossess a 2005 Kia van. The tow truck driver, owner of Raymond's Recovery Service, said he had been hired by Embassy Loans to repossess the van.
As the Repo Man began to drive off with the van, he spotted Moore running after him. He then sped off and drove a block or two away, where he stopped, got out and began to disconnect the tow truck from the van in order to reposition it.
While he was doing that, Moore emerged on the scene, jumped into the van and drove off, causing a dolly and securing tow straps to tear free and break beyond repair.
A deputy responded to the tow truck's location and then proceeded to Moore's house, where he found Moore and the van.
The van was towed away and Moore was taken to the Volusia County Branch Jail in Daytona Beach and booked in on $2,500 bond.
The criminal mischief charge was based on the damage to the dolly and tow straps. The grand theft charge was based on the fact that the van had been legally repossessed and therefore possession of the vehicle had already changed hands at the time that Moore drove it away.