Las Colinas, TX – March 27, 2012 – If you weren't at this years North American Repossessors Summit (NARS) held at the Omni Mandalay in Dallas, you missed without a doubt, the most important meeting regarding the future of the repossessions industry that's been held to date. With over 500 Repossession company owners, employees and vendors, this was probably the largest meeting in the industries history. This massive attendance can be largely attributed to the tumultuous times the industry has been going through and this years NARS delivered with some lively and timely debate and conversations from industry leaders addressing many of the important issues facing the industry today.
The two day seminar was highlighted by two separate sessions with a panel of industry leaders. Representing their respective associations were
Mary Jane Hogan (ARA), George Badeen (AFA), Patrick Altes (TFA), Ed Marcum (RSIG) and Jennifer McDaniels (NFA). They appeared before an energetic audience armed with some pointed questions. The session was moderated by Auto Sales Trade Association leader Jack Tracy, with an open question and answer period on the topics of "Acting on the Challenges of Our Industry – From Talk to Action" on Friday and "What Should You Expect from An Association or Industry Organization?" which was conducted on Saturday.
Starting Friday afternoon, after introductions, was the "Technology Innovations and Opportunities" panel that focused on ALPR and remarketing, which featured Zach Hollowell,
Business Line Director of OPENLANE, Rick O'Connor, Director of Remarketing of Sales of SMARTAUCTION, Kyle Kolsky, VP Marketing and Brand Management of LEAP Auto Loans, Inc. and Chris Metaxas, CEO of DRN. Each explained their market edge and shared some conflicting views on several points. Zach Hollowell of OPENLANE and Rick O'Connor of SMARTAUCTION disagreed on whether or not online auctions have truly gained acceptance in the industry, while Scott Jackson of MVTRAC spoke of the virtues lenders expanding of ALPR on portfolios before assignment for repossession. Some of the attendees laughed out loud when Chris Metaxas, CEO of DRN apologetically stated "I don't think we've done a very good communicating with our affiliates."
Ed Marcum of RSIG followed by Joe Taylor, VP and Stamatis Ferarolis, President of RISC spoke of the critical contributions their respective companies play in compliance and education play in the industry in their session "RISC/RSIG: Why it's Critical to Your Business".
There was a private meeting for DRN Members held before finally breaking out for the evenings cocktail party hosted by DRN and finishing for the day.
Did you go to NARS? If so, please take this survey
If not, Why? Please take this survey
On Saturday morning, Keynote speaker Mike Goins, Head of Deficiency Recovery for TD Auto Finance made a presentation to the industry called "Déjà vu, is this the Future?" and presenting "Direct Forwarding and Facilitation Models; Know, Understand. Educate and Adapt" was a panel consisting of Steve Norwood, President & CEO of Consolidated Asset Recovery Systems, Inc.; Scott Jackson, CEO of MVRECOVERY and Debra Durham, owner of Midwest Adjusters, Inc. who discussed the many issues both good and bad about the forwarding industry.
A panel of industry professionals like Michael Eusebio, Owner of Digital Dog Auto Recovery and Premier Recovery Service and (CA), Clark Thomas, PHD of Texas Hide and Seek Recovery (TX), Dave Kennedy, owner and CEO of First Credit Resources, Inc. and John Lewis, founder of MasterQueue and Find John Doe provided their views on survivability and profitability in these profit thin times called "Additional Revenue Opportunities". Each spoke of cross selling opportunities existing in additional services as well as the importance of understanding exactly what it costs to repo a car for agency owners.
After a great lunch hosted by OPENLANE, Attorney Michael Dougherty presented, what I felt was one of the more illuminating sessions of the seminar regarding the industries future expectations of the Consumer Financial Protection Bureau called, "The Consumer Financial Protection Bureau (CFPB) – Is It a Legal Minefield." With the rumor of clandestine attendance of one or more persons from this Federal Bureau, it highlighted the important role that this bureau may play in shaping the future of the repossession industry. While largely feared the industry might be regulated or licensed by the bureau,
Mr. Dougherty reported that a source close to the CFPB advised him that the focus would be on education, certification and compliance from the industry, which would be enforced through more stringent due diligence requirements placed on the lenders creating a need for the industry to follow suit.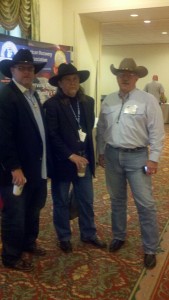 Aside from the superior speakers and information provided, the networking and catching up with friends old and new was worth the trip to Texas alone.
The 2012 NARS transcended being an association event, it was a true gathering of the industry. While not everyone agrees with each other on exactly how to accomplish it, industry unity is alive and growing. Every year the event gets bigger and every year it continues to improve. If you've never been to NARS or had once before, be sure not to miss the NARS 2013. Whether you are a lender, collector or repossession industry professional, you owe it to yourself to participate.
Kevin Armstrong
Editor