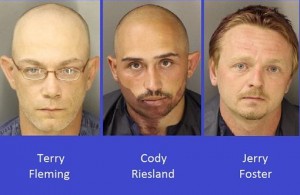 Lincoln, NB – June 5, 2012 –  Three Nebraska Repo Men were arrested for arrested for concealed weapon, trespassing and disturbing the peace after an incident.
Lincoln Police report that the three men, claiming to be bounty hunters from Weston, Nebraska, were trying to repossess a vehicle near 28th and Vine Tuesday night. The victim called police. Flood says officers searched the men's car and found a loaded 9mm Luger handgun and three knives, one with an almost foot-long blade.
38–year–old Terry Fleming, 24–year–old Cody Riesland, and 32–year–old Jerry Foster were arrested for carrying a concealed weapon, and trespassing. Two of the men were cited for disturbing the peace.
Police say repo agents must carry a concealed weapon permit in Nebraska.