The National Finance Adjusters (NFA) has a new management team helping NFA members excel in the new economy. Robert Spangler of Denver, Colorado was named Executive Director and member of the Board of Directors. He brings with him NFA's new Membership Services Director, Vicki Schrock, also in Denver. Both are excited to be working with Helen Mullaney (Momma Helen) of the Baltimore office as she continues her outstanding service to NFA.
"We are seeing great benefits in our partnership with Rob and Vicki," explained Jennifer McDaniel, president of NFA.
Jerry Wilson, NFA Vice President stated, "They are experts in association management and their years of experience help NFA provide greater services to our members and the repossession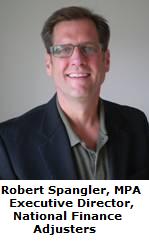 community."
Spangler's initial efforts focus on the 2012 NFA National Convention (October 18th and 19th in California), which is shaping up to be the most in-depth collateral recovery convention of 2012. Additionally, NFA initiated a Membership Drive – allowing new and prospective members to attend the Convention at a low rate and get to know the association.
"It is a great privilege to be chosen as executive director for NFA," said Spangler. "I look forward to working with the members and dedicated leaders as we build the association and meet the needs of the repossession community for years to come."
For over fifty years, NFA has joined the highest level of professional collateral recovery specialists into an elite association with a world of experience and expertise. To the members of the lending/leasing industry who deal with collateral recovery, National Finance Adjusters is readily recognized as the most professional association of its type in the World.
If you have questions or would like to speak with Mr. Spangler he can be reached at:
Robert Spangler, MPA
Executive Director, National Finance Adjusters
(303) 800-1720
nfamanager@nfa.org
NFA Home Office:
2460 W. 26th Avenue, Ste 245-C
Denver, CO 80211
www.nfa.org
2012 NFA National Convention — Oct 18-19, 2012