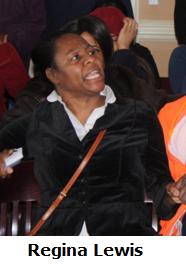 Newburgh, NY – July 26, 2012 – After a long running legal battle over threatening the lives of collections staff over the 2003 repossession of her Nissan Xterra, a very vocal and threatening Regina Lewis crossed a major line in threatening the life of a Federal Judge.
Allegedly, on July 19, Regina Lewis, 46, called the chambers of U.S. District Judge Lewis Kaplan and told a court employee she "had a bullet" with the judge's name on it, according to the complaint filed by the U.S. Marshals Service.
Lewis had reportedly called the court's Pro Se Office — a resource for people representing themselves — the same day and told an employee she wanted Kaplan's phone number because he'd closed her case and she was going to kill him, the complaint says.
"I will kill the (expletive)," Lewis reportedly said. "I will kill him."
Lewis is apparently a familiar presence around Newburgh, where she's known to interrupt public events and meetings with shouted insults and demands.
The latest episode appears to stem from a long-running battle between Lewis and Newburgh Nissan, beginning in 2003 when the car dealership repossessed her Xterra. Kaplan was the judge in the case.
At the time, he ordered Lewis to stop threatening Nissan employees, but he later noted, "Plaintiff's threats did not abate."
An employee had claimed Lewis threatened to shoot him.
U.S. marshals took Lewis into custody on Thursday. She appeared in front of Magistrate Judge Gabriel Gorenstein, who ordered Lewis be held pending a mental health evaluation.