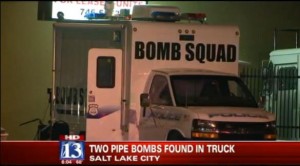 Salt Lake City, UT – July 17, 2012 – You find a lot of odd things in peoples cars when clearing out the inventory, but what was found in a repossessed pick up on Tuesday night was far from the usual.
Salt Lake City Police and Fox 13 News report that "On Demand Repos" in Salt Lake City, found two pipe bombs at about 9p.m. in a pick-up truck they seized Tuesday night from West Valley City.
The police bomb squad disabled the bombs using a robot making a controlled detonation.
Police report that employees of the repossession company had handled the device, but fortunately no one was injured.
"No one was hurt," said Lt. Melody Gray, Salt Lake City Police.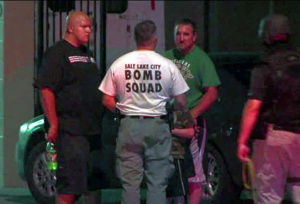 "That's one of the reasons it takes so long is it takes quite a bit of time. We have robots that actually remove devices and detonate those so that's for safety reasons."
Police are investigating the evidence and report that a person of interest in this investigation could face felony charges of possession of explosive devices.
7-20-12 – UPDATE – A suspect has been arrested in association with two pipe bombs being found in Salt Lake City on Tuesday.
Michael John Owens was arrested Wednesday night on charges of two counts of Possession of an Explosive Device.
Two pipe bombs were found in the back of a repossessed pick-up truck. A repo company discovered the bombs. The Salt Lake City Bomb Squad destroyed the bombs, but that lead to an investigation.
The Salt Lake City Police Department traced the vehicle's owner to West Valley. West Valley continued the investigation and searched the vehicle owner's home.
Soon after the investigation of his home, Michael John Owens was arrested.
Editors Note: It may only be a coincidence, but on August 19, 2011, a bomb was also found in a repo in Salt Lake City at Brasher's Salt Lake City Auto Auction.