Press Release
New Stanton, PA – October 29, 2013 – The management and staff of Pittsburgh Auto Auction are staunch supporters of the SUSAN G. KOMEN FOUNDATION, and it seems their dealers are as well.  On October 29, Pittsburgh Auto Auction auctioned off a choice selection of vehicles donated by a group of their loyal consignors, with 100% of the proceeds being donated to the famous benefit with a check in the amount of $13,130.
In addition to the car donations by their very generous dealers, Pittsburgh matched the amount of donation proceeds to Susan G. Komen – Pittsburgh.  General Manager Chris Angelicchio said, "This foundation has special meaning to our family.  My grandfather, Clo Angelicchio, who established Pittsburgh Auto Auction, was diagnosed with breast cancer in 2008.  Since then we have been celebrating his breast cancer survival and wanted to show our support for others that have been affected by this disease."
Susan G. Komen Pittsburgh is part of the world's largest and most successful education and fundraising foundation for breast cancer ever created.  "Our Pittsburgh affiliate of Susan G. Komen is significantly successful at raising funds and awareness for the fight against breast cancer," said Chris Angeliccio.
"They teach us to celebrate breast cancer survivorship, and honor those who have lost their battle with cancer," continued Angelicchio.  "This kind of dedication helps us create a very popular promotion with our dealers, and makes it easy to get donations and participation from our sellers for such a great cause."
  ______________________________________________________________________
About Pittsburgh Auto Auction: Pittsburgh Auto Auction is an independently owned and operated Dealer-Only sale that features seven lanes selling every Tuesday and GM Factory Sale every other Thursday.  PAA has been operating at its current location for more than 30 years and has a buyer base of over 6,000 registered dealers. Services include full-time fleet/lease department, 24-hour security, insured vehicle pick-up and delivery and on-site reconditioning facilities.
About SUSAN G. KOMEN: First organized in 1983, the Komen Race for the Cure Series has grown from one Race with 800 people in Dallas to a global series of more than 150 Races with 1.6 million people participating on four continents. The Komen Foundation raises significant funds and awareness for the fight against breast cancer.
Media Contact:  Chris Angelicchio, General Manager    (724) 925-4733     chris@pittautoauction.com
PITTSBURGH AUTO AUCTION, 378 Hunker-Waltz Mill Road, New Stanton, PA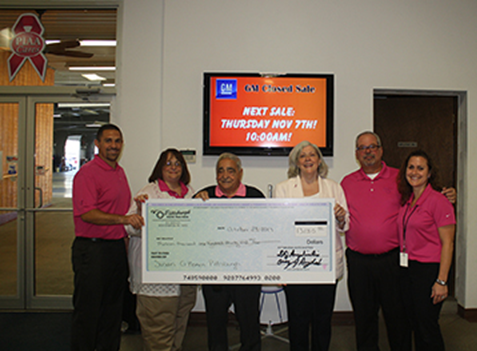 From left to right:  Pittsburgh Auto Auction General Manager, Chris Angelicchio, joins family and staff Debbie Angelicchio-Jackson, Clo Angelicchio, Kathy Purcell, Dave Angelicchio and Shelly Walker as they present a check for $13,130 to the Susan Koman Foundation.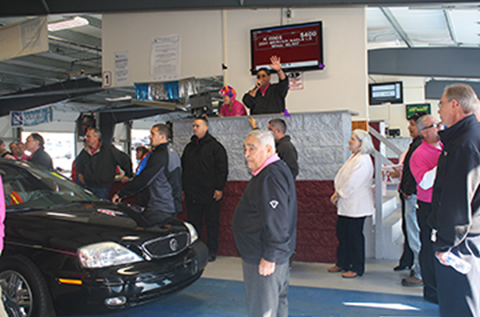 Pittsburgh Auto Auction President, Denny Angelicchio auctioning off one of the vehicles designated for donation to the Susan Koman Foundation.