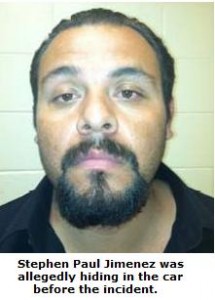 El Segundo, CA – December 11, 2012 – An LA Repo Man was seriously injured after being taken on a high speed ride on the hood of a repo by the borrower.
According to police, Stephen Paul Jimenez, 33 is being charged with attempted murder after he rammed his car into a repo Man in El Segundo on Tuesday, driving three blocks at high-speed with the victim clinging to his hood.
According to El Segundo police Lt. Raymond Garcia, Jimenez, jerked the steering wheel of his 99' Mercedes-Benz to shake the unnamed Repo Man off of the car, causing him to tumble into the street.
Jimenez was reportedly hiding inside the car shortly before 2 p.m. when the Repossessor attempted to repossess it just off of El Segundo Boulevard and Main Street. Jimenez jumped up out of hiding and exchanged words with the victim, started the car and rammed it into the victim, who rolled up onto the hood, Lt. Garcia said.
According to police reports, Jimenez purposely swerved the car near a Chevron refinery throwing the victim off the car, and drove off leaving the victim injured after the fall.
Jimenez's Mercedes was located shortly after abandoned in a parking lot at Marine Avenue and Sepulveda Boulevard in Manhattan Beach.
After Detectives staked out the car, Jimenez was later arrested attempting to pick it up.
Jimenez was booked for suspicion of attempted murder and is being held at the El Segundo jail on a $500,000 bail.
The unidentified Repo Man's injuries were described as significant, was taken to County Harbor-UCLA Medical.