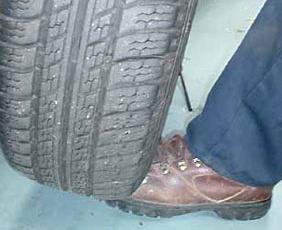 Wichita Falls, TX – June 8, 2012 – Despite his best efforts to convince the borrower to get out of the vehicle so he could repossess it, an unidentified Texas Repo Man was rewarded with a crushed foot as the borrower reportedly drove over it.
In a better late than never charge, David Davis, 33, was finally charged with aggravated assault, a second-degree felony, in connection with the May 24 incident involving the attempted repossession of his vehicle.
Davis was held in the Wichita County Jail on a $35,000 bond.
According to the police report, when police arrived at scene of the incident, the unidentified victim was sitting on the curb and claimed he could not walk because his right foot had been run over.
According to the Repo Man he was attempting to repossess a white 99' Honda Accord from the driveway where he had backed his tow truck up to the car which was being occupied by Davis, and advised Davis that he was repossessing the car and he needed to get out of it.
Reportedly, Davis told the Repo Man, "The Hell you are" and put the car in drive. As Davis accelerated, The victim was standing in front of the car and attempted to move, but Davis ran his foot over.
Police allege that Davis drove recklessly and used his car as a deadly weapon in the commission of an assault.
The unidentified Repo Man to officers that he believed his foot was broken and told police he would drive himself to the hospital.
Police later found Davis' vehicle at a home on the 2700 block of Broadmoor.