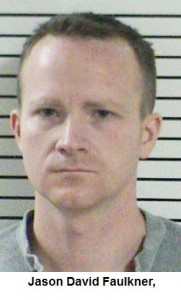 Winston-Salem, NC – January 23, 2013 – A routine personal property pick up at an auto auction turned sour as the borrower fled with the car, ran down the repossessor and forced another man, who chased him, off the road wrecking his tow truck.
Jason Derek Faulkner, 31, is facing multiple charges from the incident that began when two unnamed Repo Men agreed to meet him at Statesville Auto Auction.
While pretending to get property, Faulkner then allegedly started the car and attempted to drive away with it. The Repo Man attempted to stop the vehicle but was hit by the car's bumper as the car pulled away.
The unnamed Repo Man suffered a broken leg and other injuries, and was transported and treated at Carolinas Medical Center.
But the incident didn't stop there, another man in a tow truck (it is unknown if this is another Repo Man or merely a tow driver who witnessed the incident)  began following Faulkner down out of the auction and out onto the highway into Statesville. The tow truck driver claims Faulkner forced him off the road, causing him to wreck his wrecker.
Deputies caught up to Faulkner and took him into custody. Faulkner is charged with assault with a deadly weapon with intent to kill, larceny of a motor vehicle, and aggressive driving.
Faulkner was incarcerated in Iredell County on a $200,000 bond.