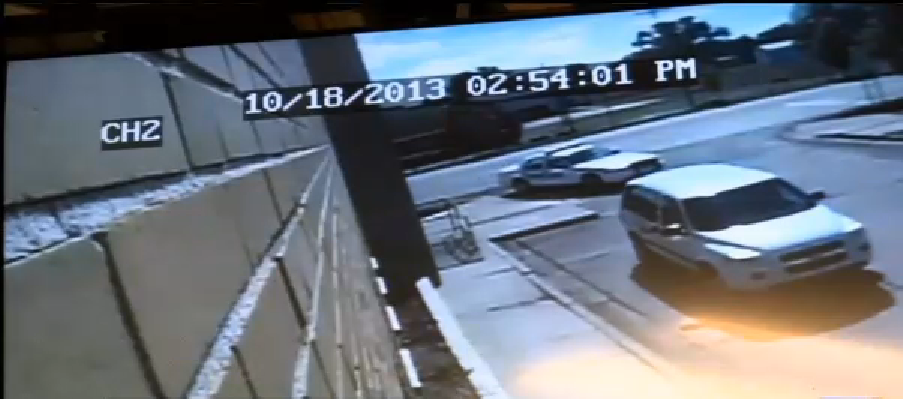 West Memphis, AR – October 19, 2013 – Returning to a car lot after a mundane repossession from a mechanics shop, Peggy Clark of Clark Towing of West Memphis, found herself dragged from her husband's tow truck with a pistol to her throat before her husband came to the rescue.
"Some man pulled up behind the vehicle that we had repossessed," Peggy Clark said.
"Started pulling on me, trying to pull me out of the vehicle," Clark explained.
Surveillance video from the used car lot showed Peggy driving the repossessed SUV into the car lot, followed by the suspect in his truck and the wrecker that her husband was driving. Within moments, the suspect went after Peggy in the parking lot.
"Started pulling on me, trying to pull me out of the vehicle," Clark explained.
Pegggy soon felt a Glock pistol pressed against her neck.
"It was touching my throat and he had it in my face," she said.
A number of witnesses watched as Peggy started kicking the man, trying to fight him off.
"Didn't really know there was a weapon involved until I turned the corner and saw the weapon pointed at her head, then I realized how serious the situation was then," co-worker Zack Watington said.
Tim, who is always armed himself while on the job, pointed his gun at the man assaulting his wife. West Memphis Police were on the scene within minutes to arrest the angry suspect.
"I don't want to hurt him — didn't want him to hurt me, my wife, my family," Tim Clark said.
As is frequently the case, the perpetrator was not the owner of the repossessed car. Just another example of how routine encounters for repo men and women can get twisted.
"You never know what can happen," Tim Clark said. "Today could have gotten ugly, real quick."
West Memphis Police identify the suspect as Marvin Thomas, apparently a mechanic who had been repairing the repossessed vehicle. He is charged with aggravated assault.
See the interview here!