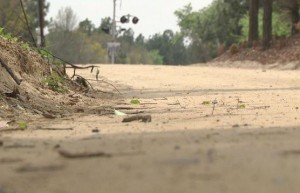 West Colombia, SC – April 12, 2013 – Two SC Repo Men were on a routine repossession assignment early Wednesday morning when they spotted what appeared to be a jacket on the side of the road. Upon closer inspection, they had stumbled upon a woman with gunshot wounds in critical condition.
Lexington County Sheriff's Department detectives are now investigating the fatal shooting of a 43-year-old woman whose body was found by two Repo Men early Wednesday morning.
The two Repo Men were on their way to repossess a vehicle on Lumberjack Drive near the intersection with Earline Drive when they spotted the unknown woman lying severely injured and immediately reported the incident to police.
Emergency Medical Services soon arrived and found that the woman was still alive. Although they quickly transported her by ambulance to Lexington Medical Center. She was later pronounced dead.
Lexington County Sheriff's Department Detectives are pursuing leads concerning the identity of the person or persons who fatally shot the woman in her chest. The motive for the shooting and the circumstances of the shooting remain under investigation.
An autopsy by the Lexington County Coroner's Office Thursday afternoon determined she died from a single gunshot wound to her upper torso when the bullet penetrated a vital organ.
The Lexington County Coroner's Office has identified the woman as 43-year-old Paula D. Justice of West Columbia. She did not have a permanent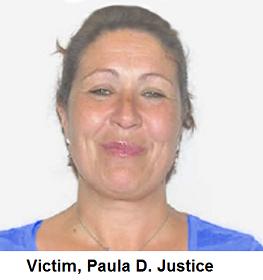 address, according to the coroner.
"You know it's serious when there are two crime scene (units) and a million cops," said Piper Henderson, who was near the scene where the wounded woman was found Wednesday night.
"I was talking to the repo guy right here and he said 'We rode down this road right here because we were on a repo call,'" said Piper Henderson, who was near the scene where the wounded woman was found Wednesday night."
"Rode down the road, thought it was a jacket, come to find out that it was the body of the lady.'"
"Maybe a bad situation gone wrong, with drugs or prostitution," said Metts. "We're not sure at this point in time. We're running victimology and trying to find that person of interest who will hopefully shed light on why this occurred."
"Whoever did this, come on," said Henderson. "You had no right. She's a victim, I don't care what she did to you, you had no right. Turn yourself in, man."