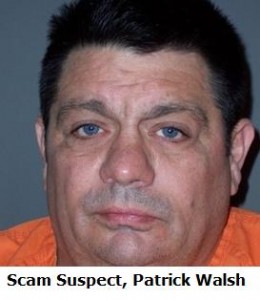 Rotterdam, NY – June 15, 2012 – Police report that Patrick Walsh, who went by a false name and ran a phony vehicle repossession company, scammed over $8,000 out of several local residents by offering them jobs and promising repo sales which he never fulfilled.
Police arrested Patrick Walsh, who went by the false name "Pat Love", of 3048 Edgewood Avenue, last Thursday.
Police claim that Walsh befriended a victim earlier this year, claiming to own a repossession company. Walsh allegedly offered jobs to four of the victim's family members and friends, claiming they would each need to pay him $150 for repossession licenses before they could start working.
But after they paid him, Walsh allegedly never produced them the promised jobs.
Rotterdam Police claim that Walsh would sometimes show up at the victim's home driving various vehicles which he claimed were repossessions that he could sell to them at deep discounted prices. The unnamed victim's son reportedly paid Walsh $8,000 for a 2009 Ford Mustang GT Convertible.
Of course, police say that Walsh never delivered the vehicle to the fraud victim.
Walsh has been charged with grand larceny and scheme to defraud, and was sent to the Schenectady County Jail.