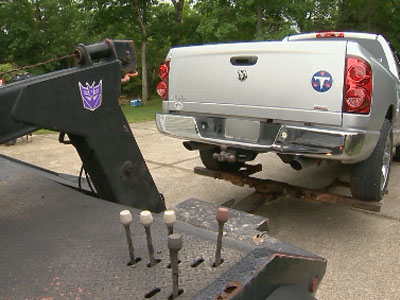 "There's no amount of money in this world worth a man's life,"
Memphis, TN – November 7, 2013 – Deaths in Tennessee resulting from repossession incidents have once again renewed the call for regulating the repossession industry as House Bill 2276– which was introduced, implements system for regulating repossession agencies and collateral recovery agents.
Newschannel 5 in Tennessee reports the situation below.
It's a dangerous and sometimes deadly job.Repo men take thousands of cars each year in Tennessee with little oversight from courts or law enforcement. Now some state lawmakers are calling for more regulation of repo companies and drivers.
Debbie Martin's brother died last January, in Overton County, after two men attempted to repossess his 13 year old pick-up truck.
"My brother lost his life for $150.  Those guys killed my brother for $150," said Martin.
Michael Brown, 48, had a history of financial problems.  When two men came to take his truck, the situation became chaotic.
Brown drove off.  A tow truck driven by Ken Krolik followed.
Krolik then called 911 right before the deadly crash.
Krolik says in the call, "Oh —- he just hit us dead on.  He smashed into us.
The 911 operator responds, "They have a wreck on Hillham Highway."
Krolik said, " Yeah, bad."
The report from the Tennessee Highway Patrol says Krolik intentionally pulled his tow truck into Brown's lane trying to block him.
Krolik is now charged with vehicular homicide.
Justin Whittenburg co-owns the company where Ken Krolik and his partner used to work, he says the highway patrol report is not complete.
NewsChannel 5 Investigates asked, "Do you regret what happened?"
Whittenburg responded, "Oh yeah, of course."
He also said, "The rules are set up to protect everybody except us."
NewsChannel 5 Investigates asked, "Did these two guys know the rules?"
Whittenburg responded, "Yes they did very well.
But our investigation found case after case where repo drivers didn't seem to know the rules. By law, repo agents have no special rights or authority. If someone tells them to leave their property, they must leave.
Metro police records show hundreds of calls involving repos last year. We found calls like repo man with a gun and repo men blocking cars. We found at least seven cases in which callers claimed repo drivers were chasing them.
Samuel Bates was shocked to see a tow truck chasing a car, in reverse, in the parking lot at Argosy University.
"It was just kind of crazy watching the whole thing happen," Bates said.
The woman whose car they were attempting to repossess slammed into two other cars.
"It's very dangerous.  If it were my wife I wouldn't want her chased by this truck," Bates said.
Police cited the repo company for not having proof of insurance. State representative G A Hardaway says Tennessee should license repo drivers.
"It's time to step up now and put something in place so that we can regulate the industry,"  Representative Hardaway said.
He wants to require training and criminal background checks for repo drivers. Right now anyone with a tow truck can start repossessing vehicles. Hardaway says so-called reality shows about repo companies that show fights and confrontations have led to more violence.
"They need to know the law and they need to know best practices for their industry," Hardaway said.
Justin Whittenburg says his drivers weren't out of control, but he's now out of the repo business.
"There's no amount of money in this world worth a man's life," Whittenburg said.
He now supports a law licensing repo drivers. That's something he and Debbie Martin agree on.
"If something like that happened then my brother didn't die in vain.  Then something good did come from his death," Martin said.
Ken Krolik has not been convicted of anything.  His family says the full story of the accident has not come out. His next court date is in April.
Right now four states require licenses for repo drivers.  They are Illinois, California, Florida and Louisiana.  The Tennessee proposal has support from people in the repo industry.  But it hasn't passed yet.
Read House Bill 2276–  Which as introduced, implements system for regulating repossession agencies and collateral recovery agents.