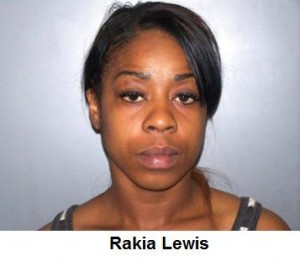 Jennings, LA – May 24, 2013 – 23 year old Rakia Lewis is facing two counts of attempted manslaughter after she allegedly ran over two female repo agents at a car wash.
According to police, Rakia Lewis, 23, was approached by two female employees from an unnamed repossession company at a car wash on South Andrews Street Thursday morning. Police claim that one employee was standing near Lewis' open driver's side door and allegedly managed to get in while the other employee stood behind the vehicle's rear bumper.
Authorities report that the repossession employees advised Lewis that they were there to repossess the vehicle, but an argument ensued and the woman closest to the car attempted to get the keys. Lewis put the car in reverse and sped away running down the woman at the rear bumper and the one by the open door.
One woman reportedly received significant injuries yet both were treated and released.
Rakia Lewis has been charged with two counts of attempted manslaughter and is currently in the Jennings Jail.