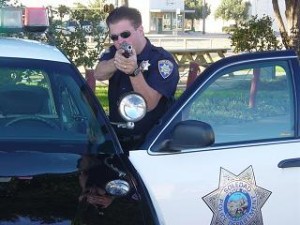 Houston, TX – April 11, 2012 – "I'm trying to make an honest living," said Repo Man Brenton Huff. "I shouldn't have to worry about being shot, especially by police." But that's what almost happened when he spotted a 2007 Chevy Silverado four months down on payments in Conroe, TX on March 15th.
According to Huff, He followed the truck, to of all places, to the Montgomery County Sheriff's Department Auto Theft Task Force office. Once the driver entered the building, Huff went to work.
"I just backed up to it, hooked up and pulled it down the street," Huff explained.
Huff reported that he, as a routine he would follow with any repossession, he pulled into a parking lot at the jail to call the sheriff's office and report the repo when seconds after he drove away, three unmarked cars reportedly pulled up alongside him, blocking in both he and his tow truck. Quickly leaping from the unmarked police cars were several men in civilian clothes with guns drawn down on him.
According to Huff, "I really thought I was gonna get shot right then,I had my hands up here on the window so they could see them. The officer was yelling at me. He said, 'That's my wife's truck."
Allegedly, the officer yelling this was Keith Winford, a Montgomery County Sheriff's detective, who "Local 2" News confirmed, is married to Tammy Berkley. Officer Winford was reportedly accompanied by three to four other deputies.
"He just grabbed me out, slammed me up against the truck right here," claims Huff.
Huff claims he was handcuffed and while Officer Winford drove his tow truck back to the sheriff's office. After being held in custody for about 15 minutes, Winford demanded that Huff unhook his wife's truck.
"Once I unhooked it, he told me 'Get out of here.' And then he told me if he catches me in his driveway, he's gonna shoot me."
Montgomery County District Attorney's Office, first Assistant District Attorney Phil Grant told "Local 2" news that the Texas Rangers are investigating the incident and that law enforcement officers do not have any special privileges when it comes to getting their vehicles repossessed.
"Law enforcement officers have to follow the same rules everybody else does," he said.
Grant said it is possible that the detectives believed that Huff was stealing the truck.
"For somebody to take the time to stop in their parking lot and hook up straps, chains, tow lights and call the sheriff's department, you know, that's obviously not a car thief just stealing a car," stated Huff.
The lieutenant at the county's Auto Theft Task Force told "Local 2" News that his detectives didn't make a report on the incident. The lieutenant only reported it to the sheriff after Local 2 called him on March 23rd, eight days after the incident.
"Should there be some sort of incident report so that you guys have something to look at?" "Local 2" News asked Grant. "Well, certainly there needs to be an incident report. And we'll be looking to see if there were any incident reports filed in this case," he claimed.
No one with the sheriff's department would talk on camera to Local 2 when they stopped by Officer Winford's Montgomery County home. When "Local 2" News was at the residence, the previously and shortly held repossessed truck was parked right in her driveway, Winford's wife, Tammy Berkley told "Local 2" News that she knew nothing about the incident.
"He put the repo guy in cuffs. Did he tell you about that?" "Local 2" news reporter Davis asked. "When you were four months behind on payments?"
"No," said Berkley. "And I have nothing to say to you."
She told reporters to leave, and then called the Montgomery County Sheriff's deputies to her home.
"It's not open season on repo men, regardless of what you see on TV these days," said Huff. "Somebody has to police the police, really."
A week after being interviewed, Montgomery County District Attorney's Office, first Assistant District Attorney Phil Grant said Winford and the other deputies are claiming that Huff put an illegal tracking device on the truck.
Huff vehemently denies the allegation.
The detectives claimed that they gave the tracking device back to Huff, so they have no proof of the tracking device. Grant said he will present both the alleged inappropriate actions of the officers and the tracking device allegations to a grand jury later this month.
Based upon an original story by Amy Davis of Local 2 News, Houston, TX