FOX Carolina 21
Spartanburg, SC – July 21, 2014 – After being bitten by a borrower during a repossession attempt, Scotty Fowler, the owner of Mission Towing & Recovery pulled out his camera phone just in time to catch the wild woman smashing the windows out of her vehicle.
Fowler claims that he had hooked up the SUV to the tow truck when Lakeisha Smith, 29, jumped in and tried to drive off with it still hooked up to the tow truck. When that failed, she allegedly attacked him.
"I was holding the door open to keep her from starting the car and she bit me," Fowler said.
At that point, Fowler began recording the incident with his phone.
In the video, the woman can be seen first pulling the SUV loose from the tow truck with two wheels spinning off the ground and then smashing the cars windows.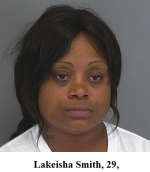 Fowler claims that Smith fled the scene on foot before police arrived. Fowler claims that she was bloody from the incident.
A Spartanburg County deputy arrived at the scene after Fowler was bitten, but did not apprehend the woman.
According to Fowler, in addition to the damage to the SUV, there was also thousands of dollars worth of damage to his tow truck.
Fowler said they were eventually able to repossess the truck.
Smith stated that she "flipped out" when he tried to tow her car.
But according to Smith, she was the victim. "I went out to retrieve my things out of the car and as soon as I touched my car, I was being yanked and pulled by the driver, so then I became angry and just flipped out, like seriously,"
Spartanburg police report that Smith was wanted on a charge of assault and battery in the third-degree for biting Fowler.
Smith reported on Monday night that she would turn herself in.
"I'm not going to run, I'm not going to look over my shoulder for a cop, it's not what I do," she said.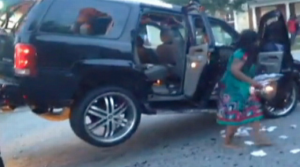 Records show that Smith was booked into the county jail about 1:30 a.m. on Tuesday.
When asked by reporter Adrian Acosta why the Spartanburg County deputy didn't act, Lt. Tony Ivey with the sheriff's office sent the following statement:
"Based solely on the actions shown on the video you sent me I see a repossession taking place which is a civil matter and not a criminal matter. The actions of the woman in the vehicle are alarming but she has not tried to assault anyone and she is not yelling or screaming profanities in public. She breaks out many of the windows of the vehicle but the question that is not clear is at what point did it stop being her vehicle, which she has a right to do with as she pleases, and becomes the property of the bank or finance company that is repossessing it? The deputy must not have felt that the vehicle was no longer her property and chose not to intervene."