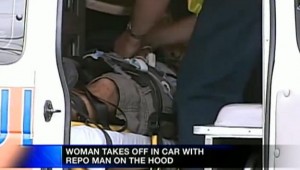 Washington, PA – May 22, 2012 – I guess it doesn't matter how many time I tell this story, there will always be someone out there who gets it into their head that they can stop a borrower from fleeing a repo by jumping on the hood. Well, it happened again.
Police are investigating a hit-and-run Tuesday involving a repo man in Washington.
Police report that a repo man, whose name has not been released, parked his truck on Fayette Street to repossess a car when a woman, assumed to be the borrower, jumped in the car and started driving away.
The repo man reportedly jumped on to the hood of the car and eventually fell off suffering minor injuries in the incident.
" He couldn't have stopped the car. He had no business getting on top of her car if you ask me." a witness told Channel 11's Vince Sims
The woman fled the scene and police have not released any other information about her. Her car is a silver Volvo, according to police.