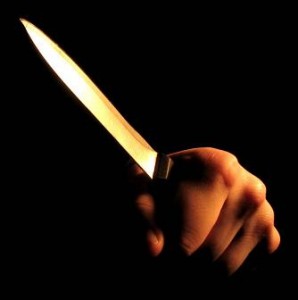 Columbia, SC – June 26,2012 – Repo Man, 6 feet tall and 250lbs. Woman, 5 foot nothing and 100 and nothing soaking wet. Knife, the equalizer. At least that's what it came down to when a woman decided to turn a knife on the Repo Man and then proceeded to steal his truck.
The Richland County Sheriff's Department has reported that an employee of Allied Finance Adjusters Member, Big Foot Recovery, was attempting repossession of a Jeep Grand Cherokee from an apartment complex when he encountered an irate woman.
The woman, who has yet to be identified, reportedly approached the 6′ 250 pound Repo Man with a knife and demanded that he leave her car alone. The 35 year old Repo Man reportedly advised the woman that he was there to repossess her Jeep for past due payments..
According to police, the woman, then cut the tow truck straps attached to her vehicle. As the Repo Man ran toward the truck, the woman turned the knife on him and got into his tow truck and drove off.
As the woman drove away in the tow truck, the Jeep rolled off of the tow truck coming to a stop in the road.
Shortly after, a search commenced by law enforcement  who located the tow truck about a half mile away at a car wash. The truck reportedly sustained approximately $30K in damages primarily because the boom arm had been dragged across the pavement.

Police did not provide a name or description of the woman but she is reportedly still on the lam.