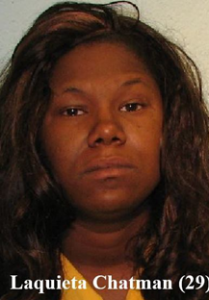 Flint, MI –April 22, 2015 – A trial is underway for a woman who police claim fired a gun at a Repo Man last year as he attempted to repossess her vehicle.
Jury selection and opening arguments were held Tuesday, April 21, in front of Genesee Circuit Judge Geoffrey Neithercut in the trial of 29-year-old Laquieta Chatman.
Chatman was charged with assault with intent to murder and felony firearm after she allegedly opened fire on the repo agent Sept. 23, 2014.
Police allege the agent was attempting to repossess a vehicle around 7:30 a.m. in the 200 block of West Alma Avenue when Chatman came out of the house and began firing a handgun.
The agent was not hit, but his vehicle sustained damage, according to police.
Chatman allegedly fled the scene but was located and arrested by police a short time later.
Attorney Lynne Taft was appointed to represent Chatman.
The assault charge carries a maximum sentence of life in prison. The gun charge carries a mandatory two-year prison sentence.